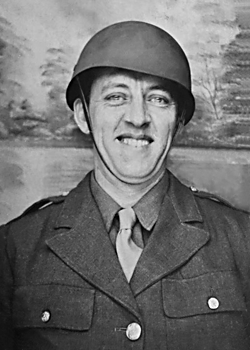 Clyde W. Shaffer
Biography: Clyde Warren Shaffer was born on July 29, 1913, in Fairmont, West Virginia. He attended local schools and, after graduation, worked as a machinist.
Prior to the war, he married the former Mildred L. Baker, who was also born in West Virginia and was the daughter of James Luther Baker and Minnie Alice Vincent.
Service Time: Clyde entered the service on March 28, 1945, at Huntington, WV. He was sent to Camp Hood, Texas, where his skills as a civilian machinist would be utilized to fulfill the military needs of the camp, the men and their equipment. By the time he arrived at Camp Hood, the main purpose of the camp had shifted away from the tank destroyers and onto the training of infantry and artillery troops.
Due to his late entry into the service, it is highly doubtful that Clyde ever served in one of the TD battalions, but the TD patch on his jacket indicates that his tasks and priorities were set by what was left of the tank destroyer staff still functioning at the facility. Later, in 1945, the troop training and camp population declined drastically with equipment reclamation and demobilization being the focus along with the establishment of a separation center for returning troops.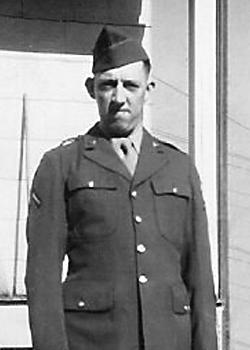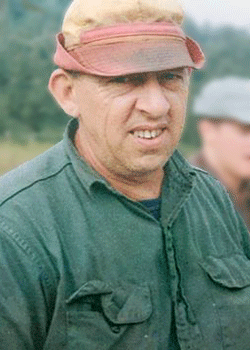 Clyde was honorably discharged in 1946 and received the WWII Victory Medal. He left the service at the rank of Private First Class.
Clyde returned home to Fairmont and Mildred. The couple had 3 children, 2 boys and 1 girl. He worked as a machinist, and in his spare time enjoyed fishing and camping. The photo above right shows Clyde fishing on Spruce Knob Lake, which is located in the Allegheny Mountains of WV. He kept a small camper there and fished from a row boat. Clyde and Mildred were also members of the Diamond Street United Methodist Church in Fairmont.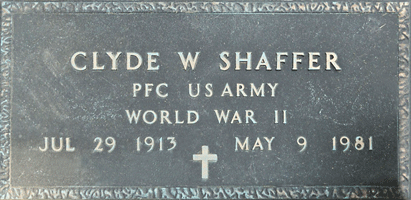 Clyde passed away on May 9, 1981, and was buried in the Grandview Memorial Gardens in Fairmont, WV.
I want to thank Clyde's grandson, Jeff, for providing the information and photos for this tribute.