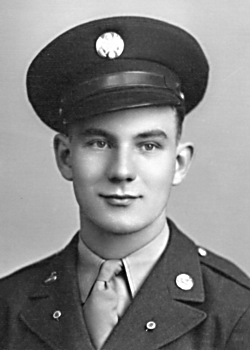 Jerome A. Stenz
Biography: Jerome A. Stenz was born on February 20, 1925, in Marytown, Wisconsin. He was the son of Joseph Stenz and Margaret Mueller and attended school in Fond du Lac, WI, through the grammar level. After leaving school, Jerome worked as a farm hand to help the family.
Service Time: Jerome entered active service on March 19, 1943, and was initially sent to Camp Campbell, Kentucky, for his basic training. He was then sent to Camp Hood, Texas, for additional training and was assigned to Headquarters Platoon, Company C, of the 656th Tank Destroyer Battalion. He functioned as a mechanic, repairing and/or replacing defective parts on the unit's equipment. On March 20, 1944, Jerome qualified as a Marksman with the M1 Carbine.
The unit shipped out from the New York port on December 16, 1944, and arrived in England on the 28th. After some additional training and preparations, they boarded ships and set sail, disembarking at Le Havre, France, on February 6, 1945.
The 656th entered the line on February 28th, attached to the 9th Armored Division. They began crossing the Ludendorff Bridge at Remagen, Germany, on March 8th and continued combat with the 9th Armored Division until the end of hostilities on May 8, 1945.
Jerome was awarded the EAME Medal, the WWII Victory Medal and the American Campaign Medal. He also received credit for both of the unit's campaigns of Rhineland and Central Europe. He left the service on November 21, 1945, at Camp Atterbury, Indiana, at the rank of Technician 4th Grade.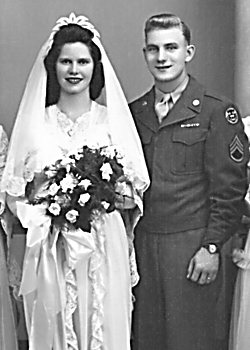 Now back in the U.S., Jerome married the former Gertrude Casper, who was born in Marytown, WI, and was the daughter of Joseph Casper and Appolonia Roehrig. The new couple made their home in New Holstein, WI. Jerome went to work at the Silver Moon Mink Ranch and then moved to Jericho, WI, where he started his own dairy farm. During his time farming he worked part time for the United States Postal Service. In 1967, he began working for Ellison Electric Supply in Fond Du Lac, WI. and worked there until he retired, 21 years later.

In his spare time, he enjoyed stamp collecting, raising rabbits and was an avid fan of the Green Bay Packers. Jerome and Gertrude would have seven sons, Daniel, Steven, Gerard, Wayne, John, Rick, Mark and six daughters, Jean, Linda, Sharon, Nancy, Karen, Ann.
Jerome passed away on March 25, 1989, and was buried in the Holy Trinity Cemetery in Jericho, WI. I want to thank Jerome's grandson, Adam, for providing the photos and information for this tribute. Adam also provided a number of additional documents relating to the 656th. I also want to thank Joanne Morehouse for the use of the grave marker photo.