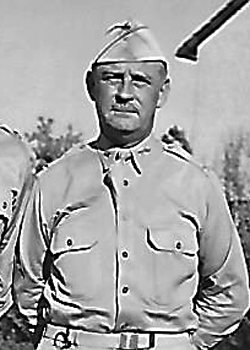 Burrowes G. Stevens
Biography: Burrowes Goldthwaite Stevens, "Steve", was born on May 21, 1895, in Portland Maine. He was the son of Paul Revere Stevens and Lena Louise Goldthwaite and attended the New York Military Academy before he received an appointment to West Point in 1916. WWI brought an early graduation in 1918.
Service Time: Although he graduated from West Point in 1918, it was too late for him to be needed overseas so he was initially sent to Camp Hancock and Camp Benning in Georgia, where he would receive additional training and later become an instructor. It was there that he met and married the former Martha "Polly" Alexander. The couple would have two children, a son, Burrowes Jr., born in 1920 and a daughter, Elizabeth "Betty", in 1927.
From that point, Steve's assignments and duties were numerous, sending him from one end of the country to the other. Just prior to WWII, he was serving with the 12th Infantry as a Company Commander, Post and Regimental Adjutant. In 1940, with war on the horizon, Major Stevens was serving at Fort Bragg, North Carolina, as S3 or Operations Officer, for the 4th Anti-tank Battalion and then as the Commanding Officer of the 94th Anti-tank Bn, which would become the 894th Tank Destroyer Battalion.
The photo below left is Steve while at the New York Military Academy. The photo on right is Steve being awarded the Bronze Star medal.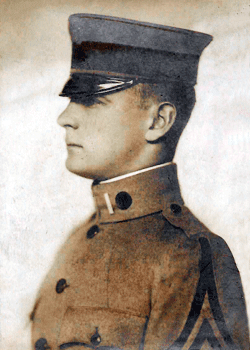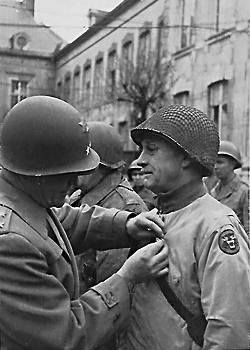 He was promoted to Colonel and took command of the 1st Tank Destroyer Group which was serving under II Corps, 1st Armored Corps and the Fifth Army. The unit shipped out from the New York port on August 19, 1942, and arrived in England on the 31st. They were assigned to VII Corps while in England and just over four months later, they boarded ship and sailed for North Africa, arriving on January 16, 1943.
From there, they traveled to Italy on Oct. 28, 1943, but were recalled on Nov. 18 of the same year. The unit returned to England, landing on Dec. 9, 1943, and later shipped to France, landing on June 13, 1944. They supported the VII Corps and acted as their Traffic Control Section. The unit moved into Belgium on Sep. 8, 1944, and then into Germany on Sep. 17, 1944. They moved back into Belgium on Dec. 23 and then back into Germany on Feb. 6, 1945. They had been attached and/or supported, II and VII Corps and provided Rear Area security of the ETO (European Theater of Operations). The unit was deactivated on Nov. 5, 1945.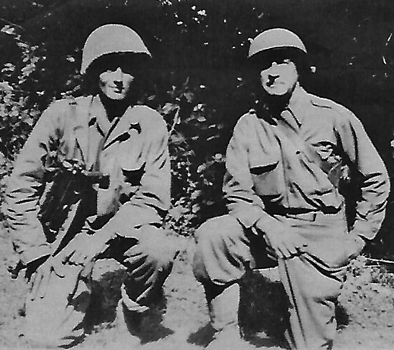 While in Normandy, Col. Stevens was able to meet up with his son, 1st Lt. B.G. Stevens Jr., in St. Lo. The younger Stevens was sent there as a replacement and assigned as B Company Commander of the 357th Infantry Regiment of the 90th Infantry Division. The senior and junior Stevens men are shown above.
Col. Stevens was awarded the Bronze Star for outstanding conduct of operations while serving as Director of Traffic for VII Corps. The citation reads:
"As Security Commander, VII Corps, COLONEL STEVENS in October 1944, formulated the Corp Security Plan, wrote the Standing Operating Procedure, and initiated the execution thereof on a practical, comprehensive, and tactically sound basis. Thereafter, he directed organization of the Corps Rear Area Security. … he evolved a doctrine that became the model for the First United States Army. The efficient manner in which troops in the Corps Area conducted operations 16-17 December 1944 on occasion of enemy paratroop activities is directly attributed to his insistence on detailed security area planning."
The unit received credit for the campaigns of Tunisia, Naples-Foggia, Normandy, Northern France, Rhineland, Ardennes-Alsace and Central Europe.
Later in 1945, Col. Stevens returned to Camp Hood and took on duties as Director of the Tactical Department and Assistant Commandant of the TD School. He again would receive diverse assignments at Fort Knox, Kentucky, Germany and New York, until he retired on July 1, 1953, and made his home in West Palm Beach, Florida.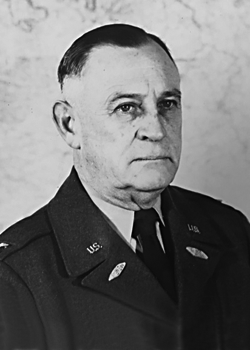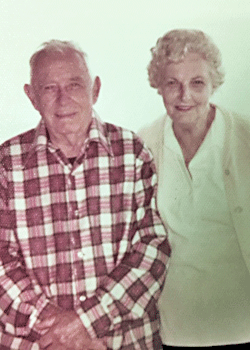 The photo above left is Steve at the time of his retirement. The photo on right is he and Polly, sometime in the 1970s.
Steve served as a deacon in the Presbyterian Church and used his military knowledge and experience as director of Civil Defense for the town. He enjoyed surf casting, woodworking, gardening and reading. The family would spend time each summer at their vacation home on Great Diamond Island in Portland, Maine.
Steve passed away on September 17, 1983, and was buried in the Parkhill Cemetery in Columbus, Georgia. I want to thank Steve's grandson, Burrowes G. Stevens III, "Bo", for providing the photos and information for this tribute. Much of the information came from a tribute written by Bo's father, B. G. Stevens Jr. I have included a link to the document, which provides additional details about Steve's military and civilian life. The junior Stevens graduated from West Point in 1943, serving in WWII and Korea. He was wounded twice, receiving the Purple Heart with Oak Leaf Cluster and was awarded the Silver Star and Bronze Star with Oak Leaf Cluster. He retired in 1952, at the rank of Major.
Memoriam to Burrowes G. Stevens – by B. G. Stevens Jr.
I also want to thank Find a Grave contributor Christine Thacker for the use of the grave marker photo.