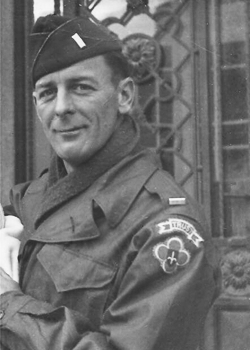 Wilbert G. Saal
Biography: Wilbert George Saal "Wil" was born on April 20, 1915, in St. Louis, Missouri. He was the son of William Saal and Lorine Wilhelm and attended the Oakhill School through the 8th grade. After leaving school, he worked at the East Side Armature Works, in St. Louis, Illinois, rewinding armatures. He then worked at the M.M. Cohn Mfg. Co., in St. Louis, MO, which is a curtain factory. He was a pattern cutter and later worked as a straw-boss or junior supervisor at the facility.
Service Time: Wil entered the service in 1941, and quickly moved up the ranks, becoming a Staff Sergeant and overseeing a platoon of men of Company A of he 821st Tank Destroyer Battalion. Wil was chosen to attend OCS (Officers' Candidate School) and graduated as a 2nd Lieutenant on February 4, 1943. He returned to the unit and his old position as platoon commander.
Officers Candidate School Certificate
In September of 1943, he married the former Nellie Mae Emory, in Evansville, Indiana. Nellie was born in Hunter, Oklahoma, and was the daughter of Cleveland L. Emory and Rhoda Elizabeth Black. The new couple made their home in St. Louis, MO.
The 821st shipped out from the Boston port on April 6, 1944, and arrived in England on April 17th. After a few months of additional training and preparations, the unit boarded transports and shipped to Normandy, France, disembarking at Omaha Beach June 26th with towed 3-inch anti-tank guns. They supported the capture of St. Lô and subsequent breakout, then entered Brittany in August and supported the capture of Brest by September 18th and then moved east in late September to Holland.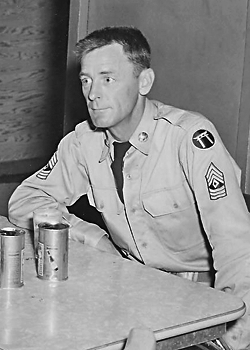 Starting on September 29th, Wil was hospitalized at the 14th Field Hospital and later at the 68nd General Hospital, which at the time was located in England. He spent approximately 3 months there for an unknown injury or illness. All we know is that he returned to full duty with the unit on December 29, 1944, and was assigned to Headquarters Company as their Motor Officer.

The 821st had been busy, conducting operations against the Siegfried Line in October near Aachen, Germany, and then transferring to Ubach, Germany, in November, supporting the drive toward the Roer River. They converted to the M10 tank destroyer beginning in December.
The unit crossed the Roer beginning February 23, 1945, and withdrew from the line during March. That same month, Wil was promoted to Executive Officer of HQ Company. In April, Company B supported operations against the Ruhr Pocket. The battalion then marched east to the Elbe River, taking up occupation duties on the 27th. The war would end in May and Wil received credit for the campaigns of Normandy, Northern France, Rhineland and Central Europe. He additionally received the EAME, WWII Victory and American Defense Medals aalong with the Army of Occupation Medal for Germany. He was also recommended for the Croix De Guerre for exceptionally meritorious service and gallantry during the period June 30th to September 18, 1944.
Wil left the service on December 13, 1945, at the Jefferson Barracks, MO, and become a Reserve Officer in the USAR. He remained inactive until August 8, 1946, when he was again placed on active duty, serving as a Platoon Leader with Company B of the 752nd Tank Battalion. At the time, the unit was serving in the MTO (Mediterranean Theater of Operations). He would only serve with them for 7 months and was then assigned to the 88th Mechanical Cavalry Recon Troop as Platoon Commander. The 88th was also in the MTO at the time.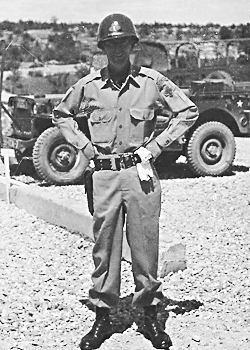 From there it was on to the 1st Battalion of the 351st Infantry, serving as Motor and Transportation Officer until he was shipped home and assigned to the 32nd AAA Battalion, which was stationed at Fort Bliss, Texas. He served as the Headquarters Battery Commander until February 1, 1950, when he again was taken off active duty as an USAR Officer.
The next day, Wil would accept a cut in grade down to a Master Sergeant so that he could go back on active duty. At the time, with no war going on, and more officers available than were needed, it was not unusual for an officer to make such a choice so that he could continue to serve while still retaining his Officer rank level within the USAR. From February 2, 1950 to January 1952, he served with the 29th Infantry Regiment on the Regimental Combat Team. The unit was stationed at Okinawa during this time period and was part of the Ryukyus Island and the Far East Command
With the Korean war now going on, his rank, now a Captain AUS, was restored and he was assigned to FECOM (Far East Command) as the Headquarters Battery Commander of the 204th Field Artillery Battalion from January 19, 1952, until August 23rd. He was then assigned to C Battery of the 47th AFA Battalion at Camp Chaffee, Arkansas, as the Commander but after just a few months, he was promoted to Executive Officer of their Headquarters Company. He would go on to the HQ Co. of the 65th AAA Group serving as Motor and Transportation Officer and then HQ Battery Commander. The unit was stationed in the U.S. Army Caribbean, Fort Clayton, which was located in the Panama Canal Zone. He later served with the 15th AAA Group, stationed at Fort Banks, Massachusets.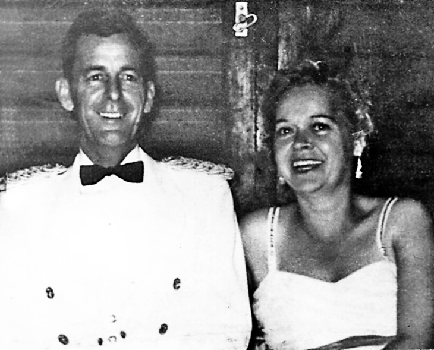 While stationed in the Canal Zone, Wil and his wife were at a party at the Officer's Club, when another Officer asked Nellie to dance. She said no thank you, but the Officer made some nasty remarks about her and Wil threw the Officer thru a glass window at the club. The incident would put a black mark on his record and he was passed over twice for promotion. It seemed pretty trivial for a soldier who had seen combat in two wars.
He retired in 1962, from Fort Harrison, Indiana. He was additionally awarded the Army of Occupation Medal for Japan and the Korean Service Medal with credit for two campaigns, the Armed Forces Reserve Medal with hourglass device, and Overseas Service Ribbon with numeral "4" designating his four overseas assignments and the United Nations Service Medal, He had also qualified as an Expert with the Carbine, Machine Gun, Sub Machine Gun and Tank Weapon.
Now a civilian, he kept busy working as a television repairman and as a bank teller. In his spare time, he enjoyed flying remote control planes, fishing and bowling. He was also a member of the VFW. Will and Nellie had two sons, Larry, born in 1938 and Michael in 1947.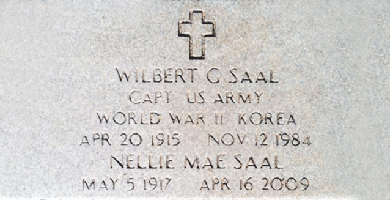 Wil passed away on Veterans Day, November 12, 1984, and was buried in the Fort Bliss National Cemetery in El Paso, Texas. I want to thank Wil's son, Michael, for providing the information and photos from this tribute.
Both Larry and Michael served in the Navy. Larry served from 1956 to 1960, specifically on two aircraft carriers as an Anti Submarine Warfare Specialist and later switched over to the Seabees as a UT (Utilities) man, stationed in Africa. Michael served from 1964 to 1968, in the 2nd Division as part of a boat crew for small boats on a Seaplane Tender. He fought in three major Vietnam campaigns and was one of few blue water sailors to have boots on the ground while in Cam Ranh, Vietnam. He was awarded the Combat Action Ribbon. He later joined the Naval Reserves and came back on active duty in 1976 to 1979 as a Navy Recruiter in Los Angeles, CA.