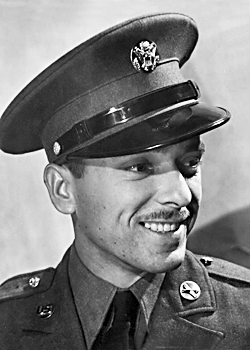 Teddy T. Szidlowski
Biography: Teddy Thomas Szidlowski was born on May 24, 1920, in Houston, Texas. He was one of two sons, the other being his brother Robert Joseph, born to Thomas Szidlowski and Josephine Slotwinska. Teddy attended John H. Reagan High School in Houston for two years and was working as a machinist for the Southern Pacific Lines railroad prior to entering the military.
Service Time: He entered the Army on October 8, 1941, in Houston. On January 15, 1942, Teddy arrived at the 607th Tank Destroyer Battalion, then located in Sunnyvale, California, and was assigned to Company B as a Private. Thus began several years of training at various locations, including Fort Ord, Hunter Liggett Military Reservation, Lost Hills, Camp San Luis Obispo, the Desert Training Center, near Goffs, and Camp Cooke, all in CA. They also trained at Camp Hood, Texas. He was promoted to Corporal on May 12, 1942, and became a Sergeant on June 20, 1943.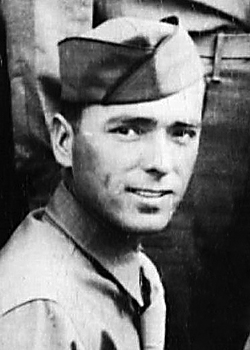 On April 13, 1944, the unit sailed from the Port of Boston and arrived at Liverpool, England, on April 21. Following additional training in England, Company B disembarked at Utah Beach, Normandy, France, on June 24. They supported the advance on Cherbourg and fought along the Seves River in July. Next, they participated in the drive to Le Mans and envelopment of the Falaise Pocket in August. In September, attached to the 90th Infantry Division, they were advancing to the Moselle River and the area west of Metz, France.
On Sept. 10th, Company B moved its three gun platoons to Fontoy, Angeviller and Algrange, France. Although we don't have details of the incident, on September 10, 1944, Sergeant Teddy T. Szidlowski was killed in action at Fontoy. He was initially buried in Europe but was brought home for reburial in the Forest Park Cemetery, Houston, Texas, on November 22, 1948.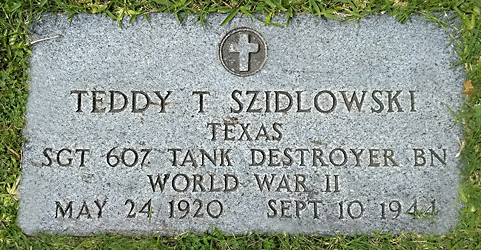 We would like to thank Sergeant Szidlowski for making the ultimate sacrifice for his country. We would also like to thank his niece, Nancy Szidlowski, for the main photo and information used in this tribute. Thank you also to Patrick Curry for providing the grave marker photo.