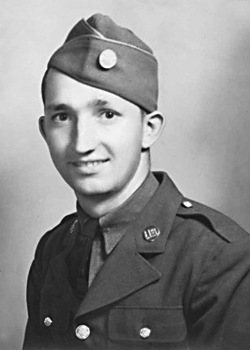 Martin G. Steffan
Biography: Martin George Steffan was born on September 27, 1916, in St. Louis, Missouri. He was one of 4 children born to George Steffan and Maria When, both of whom emigrated to the U.S. from Hungary. On November 20, 1941, Martin married the former Adele M. Meyer, who was also from St. Louis.
Service Time: Martin entered the Army and was eventually assigned to Company B, 701st Tank Destroyer Battalion. He eventually became a tank destroyer commander. The unit shipped out from the New York port on May 31, 1942, and arrived at Belfast, Northern Ireland, on June 11th. Companies B and C, along with one platoon of Recon Company, participated in the Operation Torch landings on November 8th, near Oran, Algeria.
Advancing toward Tunisia, beginning November 16th, the battalion reached North Africa on December 10th. While in Tunisia, they were usually attached to the 1st Armored or 1st Infantry Divisions, during actions at El Guettar, Faid Pass, Sidi Bou Zid, Sbeitla, Hill 609, and Mateur.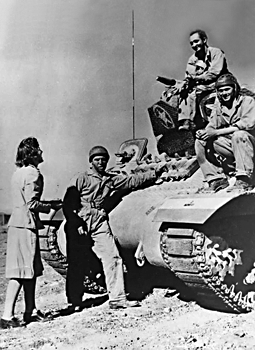 The 701st shipped to Italy in October, 1943, and entered the line in the Pagnataro area. Their TDs operated largely as artillery and for much of early 1944, the battalion was attached to II or VI Corps in Cassino sector. They were then shipped to the Anzio beachhead in February, 1944, and supported the 1st Armored Division during their breakout in late May, entering Rome on June 4th. By the end of June, Company B was just south of Radicondoli, Italy, attached to CCA (Combat Command A).
The photo at left shows a woman from the Red Cross, speaking to Martin, who is sitting on the back of the turret of his M10 Tank Destroyer. The two other men are probably members of his crew during stateside training.
On July 1st, 1944, Sgt. Steffan's TD was hit by an enemy shell which penetrated the turret, killing the crew and burning the vehicle. The men were all buried overseas at the time.
On December 6, 1949, Sergeant Martin G. Steffan and three of his crewmates, Corporal Baldwin B. Chambers, T/5 William R. Fulmer and Private James H. Hallman, were re-interred in a group burial at the Jefferson Barracks National Cemetery, Section 79, Grave 322, Lemay, St. Louis County, MO.
We would like to thank these men for making the ultimate sacrifice for their country. We would also like to thank Find-a-Grave contributor meletaprouhet for the personal photos.