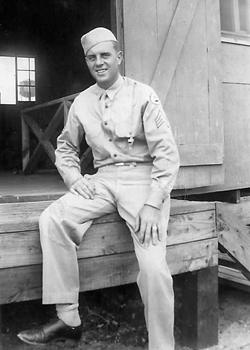 William J. Schaufenbuel
Biography: William John Schaufenbuel, "Bill", was born on May 21, 1918, in rural Saint Lucas, Iowa. He was the son of Joseph Schaufenbuel and Anna Langreck and attended Saint Luke's Catholic School and then went to work as a farmer.
Service Time: Bill entered the service on March 12, 1941, and after his initial training, he was assigned to Battery B of the 243rd Field Artillery Battalion and then Battery B of the 152nd Field Artillery Battalion of the 43rd Division. He was ultimately assigned to Company A of the 691st Tank Destroyer Battalion.
The unit was stationed at Camp Claiborne, LA, and took part in the Louisiana maneuvers, in May of 1943. On September 13, 1943, while on leave, Bill married the former Marie Serene Stammeyer who had also been born in Saint Lucas and was the daughter of Peter Stammeyer and Magdalen Klemmer.
They shipped to England on July 26, 1944, and then onto France, arriving on August 1st. Seeing action in Lorraine in September, they were then transferred to the Ardennes in December. Moving south, they joined operations in the Saar region in February and March of 1945. Originally a towed battalion, the 691st converted to M36s later that month and moved across Germany, reaching Limbach in April. The unit received credit for campaigns in Northern France, Rhineland, the Ardennes and Central Europe. Bill shipped home and arrived in the U.S., on September 22nd. He was discharged on October 6th at the rank of Sergeant.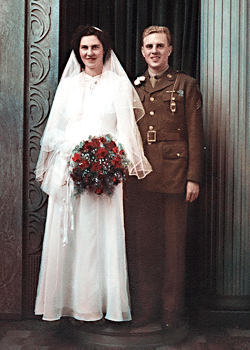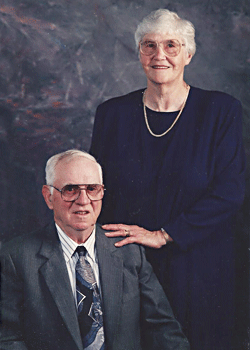 Bill returned to Marie and to Saint Lucas, where they would make their home. He also returned to his former occupation, farming near Waucoma. He also worked as a meat processor and later owned a meat processing business, Your Choice Beef, in West Union, IA. In his spare time, he enjoyed gardening, hunting and fishing and was an avid Chicago Cubs and Bears fan. Bill and Marie would have 13 children; William born in 1944, Wayne in 1946, Lois in 1947, Ivan in 1948, Donald in 1949, Inez in 1951, Dean in 1952, Alice in 1955, Joseph in 1957, Carroll in 1959, twins Thomas and John in 1961, and Keith in 1966.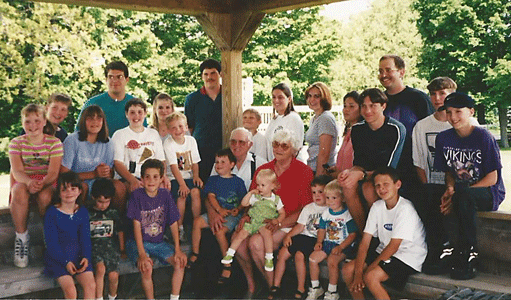 In addition to his family, work and hobbies, Bill was a member of the Rosary Society, the American Legion in Saint Lucas and also sang in the Saint Luke's church choir. Bill passed away on January 11, 1999, and was buried in Saint Luke's Cemetery. I want to thank Bill's son, Carroll, for providing the information and photos for this tribute.