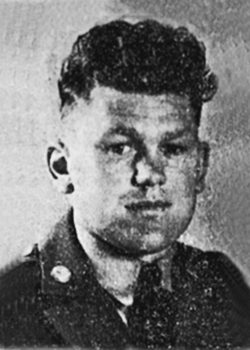 Kenneth V. Schryer
Biography: Kenneth Vernon Schryer, "Ken" was born on July 7, 1919, in Wessington Springs, South Dakota. He was the son of Daniel C. Schryer and Jessie May Dean and graduated from Wessington Springs High School. He then worked as a truck driver prior to the war.
Service Time: Ken entered the service on February 13, 1942, at Fort Leavenworth, Kansas. After his basic training, he was assigned to Company C of the 808th Tank Destroyer Battalion, which was activated at Camp Joseph T. Robinson in North Little Rock, Arkansas. During his training, he qualified as an Expert with the Sub Machine Gun and as a Sharpshooter with the M-1 Rifle.
In addition to his training with the tank destroyer crews, he attended Cooks and Bakers school which was also located at the camp. He graduated as a Mess Sergeant and was also recognized as a Platoon Sergeant on his discharge. As noted later in this tribute, it seems that Ken didn't spend much time in the kitchen as his talents in the field would be recognized and awarded.
The unit was reorganized as a towed battalion in May, 1943, and shipped out from the New York port on August 11, 1944, arriving in England on the 22nd. Less than a month they were loaded on transports and shipped to France, disembarking at Utah Beach on September 19th. They entered the line east of the Moselle River six days later, where they remained until moving to the Ardennes on December 21st. The 808th protected the XII Corps flank through January 1945.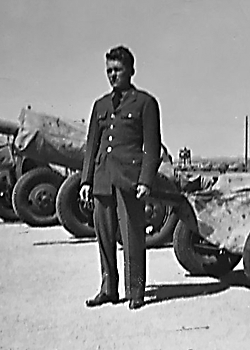 The unit converted to M36 Tank Destroyers in February and supported the drive to the Rhine in March and the river crossings south of Boppard, Germany, late in the month. They joined Third Army's drive through Erfurt, Nürnberg, and south into Bavaria, advancing to Linz, Austria, in early May.
Ken received credit for the campaigns of Rhineland, Ardennes-Alsace and Central Europe. He was awarded the Bronze Star for Meritorious Service while the unit was attached to the 80th Infantry Division. His citation reads:
"During the period of September 29 to December 1, 1944, Sgt. Schryer distinguished himself in performing his duties as Company Sergeant in a superior manner. On numerous reconnaissance missions he never permitted any obstacle to deter him from securing all required information, demonstrating outstanding qualities of skillful courage and sound judgement. The leadership, efficiency and sincere devotion displayed by Sgt. Schryer reflect credit upon himself and the armed forces of the United States."
Ken received a second award of the Bronze Star Medal in 1945, designated by the Oak Leaf Cluster. He also received the Good Conduct Medal. After shipping back to the U.S. on August 2, 1945, and proceeding to Camp McCoy, Wisconsin, he left the service on September 20th at the rank of Staff Sergeant.
Ken returned to Wessington Springs and found worked as a farm hand. He did construction and also worked for the State Highway Department as a foreman. He played amateur baseball and in his spare time, he enjoyed hunting. On September 21, 1947, Ken married the former Lorraine Mae Wahl who was also born in Wessington Springs and was the daughter of August Wahl. The couple would have four children, two sons, Vernon and Roland and two daughters, Corrine and Peggy.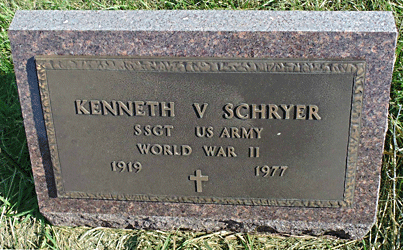 Ken passed away on September 11, 1977, and was buried in the Prospect Hill Cemetery in Wessington Springs, SD. I want to thank Ken's nephew, Curt Schryer, for providing the information and photos of Ken. Thank you also to Find A Grave contributor Andrea for the use of the grave marker photo.