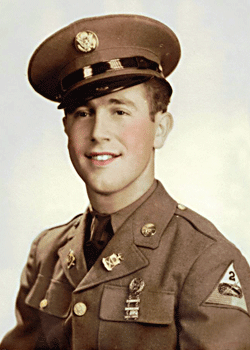 Alex Steinberg
The following tribute was researched and written by Lowell Silverman. Lowell came across Cpl. Steinberg while doing research on his grandfather, Dr. Robert Silverman, who served at the 32nd Station Hospital.
Biography: Alex Steinberg was born in Newark, New Jersey on January 13, 1918, the youngest of seven children born to David and Clara Steinberg, Jewish immigrants from Austria-Hungry. Though he attended Central High School, he dropped out in order to work to support his family. Steinberg's son recalls that his father "worked in many places but one was a delicatessen where he learned how to butcher meat."
According to a newspaper clipping in a family album, Steinberg was working as a delivery driver for a Brown's Bakery in Elizabeth, New Jersey when he was drafted prior to the U.S. entry into World War II.
Service Time: Steinberg was inducted into the U.S. Army in Trenton, New Jersey on June 19, 1941 and initially assigned to Fort Dix, New Jersey. During the summer of 1941, he trained at Camp Wheeler, Georgia, followed by further training at Camp Jackson that fall. Afterward, he was stationed at Fort Benning, Georgia. Photographs of Private Steinberg indicate that he was initially assigned to the 2nd Armored Division there, but he had joined Company "C", 894th Tank Destroyer Battalion by December 25, 1941.
Steinberg had been promoted to private first class by July 3, 1942, when he appeared in a company photo at Fort Bragg, North Carolina. He was promoted to corporal on August 3, 1942, at Indiantown Gap Military Reservation, Pennsylvania. Three days later, he shipped out for England with the rest of the unit. The 894th first entered combat during the Battle of Kasserine Pass on February 20, 1943, during the Tunisian campaign. Corporal Steinberg distinguished himself during the battle when, according to an AP report, he displayed "his heroism in dismounting from a vehicle on the fire-swept battlefield and carrying a wounded man to safety." The following month, he was awarded the Silver Star Medal.
The Courier Journal, March 15, 1943 – Silver Star Article
AP New Release – Kasserine Actions
Corporal Steinberg later earned a second award of the Silver Star when he and 1st Lieutenants Joseph R. Uhler and Baker D. Newton, worked to extinguish a half-track, heavily ladden with ammunition. The half-track had been hit by enemy artillery and was set ablaze during the Battle of El Guettar, in April 1943. Both Uhler and Newton also received Silver Stars.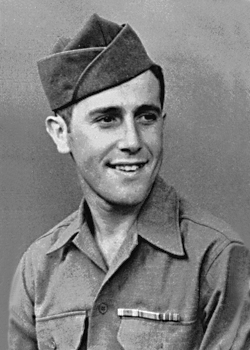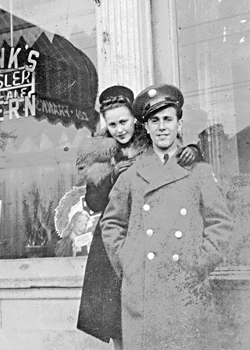 Corporal Steinberg served as ammunition corporal for a period of time prior to June 26, 1943, when he became radio operator for Captain Baker D. Newton (Company "C" commanding officer from February 27, 1943 through March 31, 1944).
The 894th helped capture Bizerte on May 7, 1943, ending the Tunisian campaign. Corporal Steinberg remained with the 894th while it re-equipped with M-10 tank destroyers at the Fifth Army Training Center near Sebdou, Algeria in mid-1943, and shipped out to Italy that fall. Corporal Steinberg was in action with the 894th in the Cassino area and the beginning of the Anzio campaign before being rotated home to the United States on February 3, 1944.
After rotating home, he was assigned to the Army Ground Forces Replacement Depot No. 1 at Fort Meade, Maryland (apparently in a training role). He served as a platoon corporal in the Sixth Regiment. He was discharged from the U.S. Army effective May 31, 1945.
Steinberg married Mary Fries in New Jersey in 1944, after returning from Italy. The couple raised two sons. One of their sons recalled that, apparently putting Alex's experience in the delicatessen to good use, the couple opened a grocery store in Hillside, New Jersey. Unable to compete with larger supermarkets, he returned to working as a bakery delivery driver for the Harrison Baking Company (Pechter's Bakery) until his retirement. The Steinbergs lived in Cranford, New Jersey from 1954 until they moved to Lake Worth, Florida in 1980. He died there on May 24, 1998, aged 80.
I want to thank Lowell Silverman for his work and to Alex's son Gary Steinberg for providing information, documents and photos for this tribute.