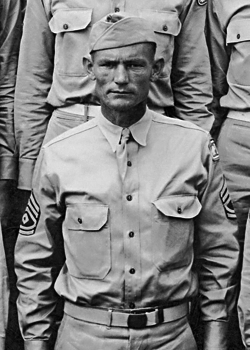 Clabe Sherman
The following tribute was researched and written by Lowell Silverman. Lowell came across Clabe Sherman, while doing research on his grandfather, Dr. Robert Silverman, who served at the 32nd Station Hospital.
Biography: Clabe Sherman was born in Anderson, Tennessee on April 5, 1904, the son of Forrest and Hattie May Sherman. Sherman and his wife Ruthie Mae (1908–1985) raised three sons and a daughter. One of their sons recalled that his parents met at Fort Benning before the war; Ruthie Mae was the stepdaughter of the cook in Clabe's company.
Service Time: Sherman enlisted in the U.S. Army (apparently in Chattanooga, Tennessee) on January 18, 1925. During the 1930s he was stationed at Fort Benning, Georgia. On April 19, 1940, he was recorded on the federal census at the rank of 1st sergeant. By December 25, 1941, 1st Sergeant Sherman was a member of Company "C", 894th Tank Destroyer Battalion at Fort Benning. He accompanied the unit to Fort Bragg and England prior to landing in North Africa. The 894th Tank Destroyer Battalion's baptism of fire occurred during the Tunisian campaign, where its members fought in the Battles of Kasserine Pass, El Guettar, and Bizerte.
1st Sergeant Sherman distinguished himself during the Battle of Kasserine Pass, particularly an engagement which occurred the night of February 20 or February 23, 1943, depending on the source. A February 27, 1944 article by Noland Norgaard of the Associated Press stated:
"A lean and leathery top sergeant was highly praised today for leading a detachment of 115 men to recapture Kasserine Pass in a two-hour battle with German and Italian rear guards ands holding it overnight until a battalion of United States infantry arrived.
[…]
He was assigned one afternoon to lead a unit comprising two rifle platoons, one machine-gun platoon and one mortar platoon against Axis position on a high hill commanding the pass.
The sergeant's superior officers, [894th Tank Destroyer Battalion C.O.] Lieut. Col. Charley Eastburn of Meridan, Miss., and [Company "C" C.O.] Capt. Noble H. Abney of Leesville, Ga., gave only one order: 'Find out what's on that hill and knock it out.'"
Kasserine Pass Article – The Nashville Tennessean, Feb. 28, 1943
1st Sergeant Sherman was later awarded the Distinguished Service Cross for his actions. The citation, dated July 9, 1943, stated in part:
"From within his battalion, First Sergeant Sherman organized and took command of a provisional infantry detachment composed of personnel previously inexperienced in combat. He was assigned the mission of moving his detachment into Djebel Chambi as right flank protection for the battalion, which was to drive out the Germans entrenched on the height, and if possible proceed into the Kasserine Pass. By aggressive leadership, daring actions and extraordinary heroism he directed and personally led his detachment in an extremely difficult march through the mountains, neutralized several machine guns, and pressed his attack along the mountain throughout the night. He accomplished his mission so effectively as to create such a diversion that a superior enemy force holding the Kasserine Pass withdrew. His actions resulted in the subsequent occupation of the pass without the loss of a single life. The extraordinary heroism, determination, perseverance and aggressive leadership displayed by First Sergeant Sherman reflect the finest traditions of the Armed Forces and are deserving of the highest praise."
He earned a Silver Star during the 894th Tank Destroyer's next battle, El Guettar in April 1943.
1st Sergeant Sherman stayed with the 894th after the end of the Tunisian campaign while the unit re-equipped with M-10 tank destroyers at the Fifth Army Training Center near Sebdou, Algeria. The 894th was in combat near Cassino, Italy in December 1943 and January 1944, before being shipped to the Anzio beachhead.
Towards the end of the Anzio campaign, on May 8, 1944, 1st Sergeant Sherman departed from the 894th Tank Destroyer Battalion for rotation back to the United States. Few details of his subsequent military service are known. He was back at Fort Benning by 1946 and retired in March 1947 at the rank of master sergeant.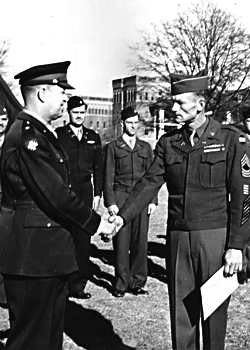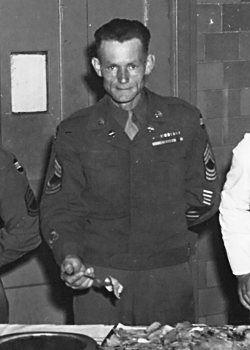 The photo on left is believed to be taken sometime after WWII, possibly in 1947, at his retirement from the service. The photo on right is from the same time period and may be at his retirement meal.
Retirement Appreciation Letter
After Sherman's discharge, the family initially lived in Estill Springs, Tennessee, where Clabe worked as a truck driver. He and his family moved to Eloise, Florida in 1949. Two years later, the family moved to Wahneta, Florida, where he worked as a supervisor in a fruit processing plant. Sherman died on May 4, 1980, at the age of 76. he was buried in the Glen Abbey Memorial Gardens in Auburndale, Florida.
Thank you to Lowell for his work and to Clabe's son David for providing information and photos from this tribute. Thank you also to Sonja Korzep for the use of the grave marker photo.