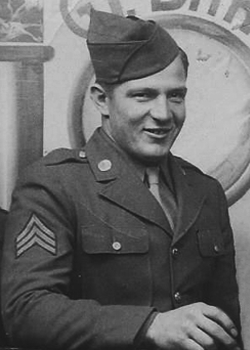 Julius R. Slopek
Biography: Julius Robert Slopek, "Jules", was born on October 22, 1923, in Slovan, Pennsylvania. He was the son of Josef Slopek and Marie Nehner and he graduated from Burgettstown Union high in 1941. His jobs after leaving school included meat cutting at Cindrich's Triangle Store and as a furnace charger at the American Zinc Works in Langeloth, PA.
Service Time: Jules was drafted and entered the Army on May 6, 1943, at Pittsburgh. PA. It is believed that he did his basic training at Camp Swift, Texas and then moved to Camp Hood, TX, for his specialized training. He was assigned to the Company C of the 661st Tank Destroyer battalion.
The unit trained at a number of facilities including Camp Hood, Texas, Camp Claiborne, Louisiana, Camps Swift and Bowie, TX and Camp Chaffee, Arkansas.
On December 22, they moved to Camp Shanks, New York, for final preparations before shipment overseas. They shipped out from the New York port on January 10, 1945, and arrived at Le Havre, France, on January 21st. They were equipped with M18 tank destroyers and received a hurried two weeks of preparations before marching hundreds of miles into the interior of France. They were committed to battle at Rocherath-Krinkelt, Belgium, on February, 16th.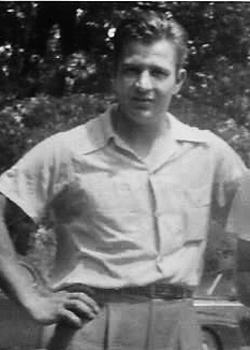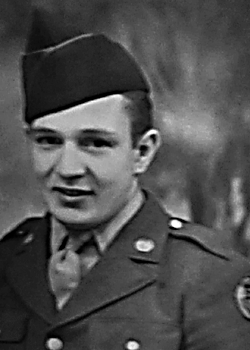 Fighting along the Siegfried Line near Helenthal, Germany, in March, they then crossed the Rhine on the 27th. They advanced across Germany to Leipzig by April 17th, where the men saw their last fighting. Jules was one of the men of the unit that met with the Russians at the Elbe River in Torgau, Germany. In a short three month period, the 661st had taken 727 prisoners, destroyed many anti-aircraft guns, machine gun nests, and strong-points and marched over 1200 miles.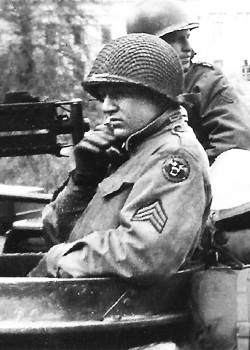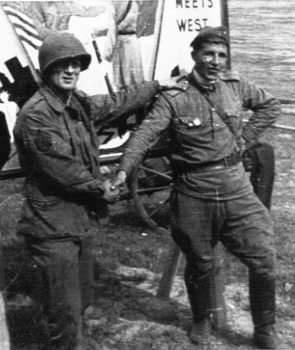 The photo above left was taken during actions at Leipzig, Germany in 1945. The photo above right is Jules shaking hands with one of the Russian soldiers at the Elbe River in Torgau, Germany.
Jules received credit for campaigns in the Rhineland and Central Europe and was awarded the EAME Medal, the American Theater Ribbon, the WWII Victory Medal and the Good Conduct Medal. He left the service on March 7, 1946, at Fort George Meade, Maryland, at the rank of Sergeant.
Now back in the U.S., Jules started a job at the Fisher Body works in McKeesport, PA. He met the former Ellen Rae Harshall "Pat", who was born in Burgettstown, PA, and was the daughter of John and Minnie Harshall. The couple married on May 31, 1952, and had a daughter Patricia, born in 1953, and a son, Thomas in 1959. Jules also had a step-son, Jack.
A few years later, in 1955, the family moved to Cuyahoga Falls, Ohio, and Jules went to work for the Ford Motor Co. at their Walton Hills Stamping Plant. He was a tool and die maker and later worked as a process and design engineering manager. He retired from the company in 1985, after 30 years of service.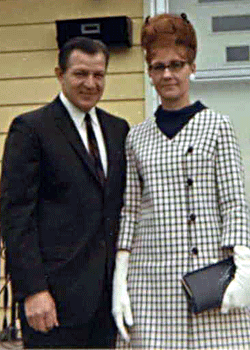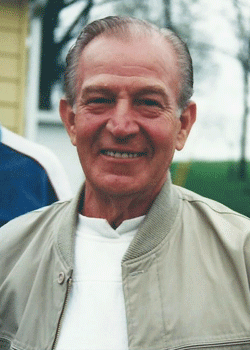 He continued to work in the metal stamping industry as a consultant but he also took time to enjoy some of his other interests, including family trips and activities, baseball, furniture crafting and working on his home's yard and landscaping. He had a special place in his heart for animals, particularly dogs, and he loved attending the annual reunions of the 661st.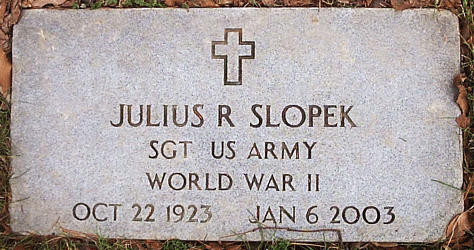 Jules passed away on January 6, 2003, and was buried in the Chestnut Hill Memorial Park in Cuyahoga Falls, Ohio. I want to thank Jules' son, Tom, for providing the information and photos for this tribute. I also want to thank Roger Milford for use of the grave marker photo.