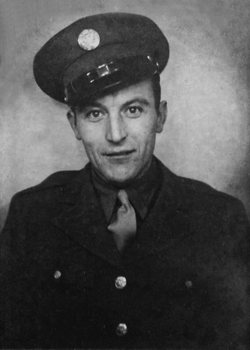 Theodore J. Stubinger
Biography: Theodore John Stubinger was born on a farm, north of Russellville, Missouri, on December 26, 1915. He was the son of Mathias Stubinger, an immigrant from Austria, and his wife Elizabeth K. Huettenmeyer. He attended local schools in the Russellville area and then worked as a mechanic. His draft card says that he was working for Fischer brothers, in Russellville, prior to the war.
On October 26, 1941, Theodore married the former Verneda J. Kirchner who was the daughter of Otto Johan Kirchner and Augusta Mary Linsenhardt.
Service Time: Theodore entered the service on December 30, 1942 at Fort Leavenworth, Kansas, and after his initial training, he was assigned to the 671st Tank Destroyer Battalion.
The unit received training at a number of facilities, including Camps Hood and Swift in Texas, Fort Knox, Kentucky and Fort Lawton, Washington. Theodore's skill's as a mechanic were quickly identified and he was assigned to the unit's maintenance section. The unit's records indicate that while they were stationed at Camp Hood's BUTC (Basic Unit Training Center), the maintenance section scored an impressive 490 out of 500 points, during an assessment of their skills.
The unit shipped from the Seattle port of embarkation on Dec. 28, 1944, and arrived in Hawaii on January 5th, 1945, initially stationed at Kaiaka Bay Camp and then Aiea Camp Number One, which is opposite of Pearl Harbor.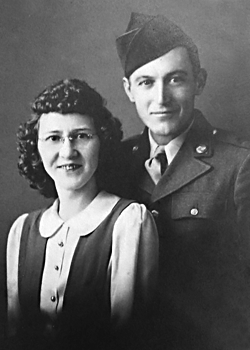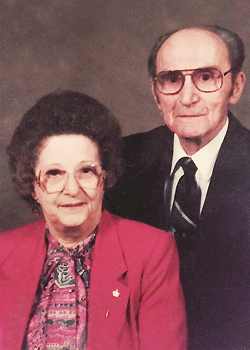 The photo above left is Theodore and his wife Verneda. The photo at right is Theodore with second wife Vera.
They then shipped to the Philippines in July, preparing for the invasion of Japan. The unit returned to the U.S., arriving at the Los Angeles port on January 16, 1946. Although the unit did not have credit for any campaigns, they had been thoroughly prepared for action. Theodore left the service at Fort Leavenworth in February 1946.
After the war, Theodore return to Verneda and found work at Vanosdoll Motors and later American Motors in Jefferson City, beginning as a mechanic but working himself into a position as shop foreman.
Verneda passed away in 1991 and Theodore married a second time to Vera M. Kirchner on October 5, 1991. Vera was born in Cole County, MO and was previously married to one of Verneda's brothers, Arno A. Kirchner, who passed away in 1977. She was the daughter of George F. W. Renn and Mary C. Prenger. Theodore passed away on January 28, 1994, and was buried in the St. Paul's Lutheran Church Cemetery in Lohman, MO.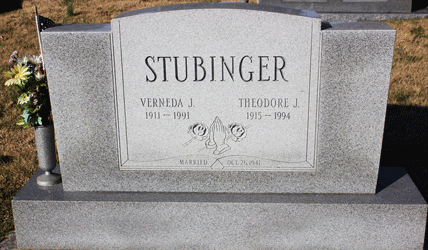 Much of the information found in this tribute was extracted from an interview of Theodore's niece, Beth Rockelman, by Jeremy P. Amick. I want to thank Beth for her efforts to preserve the memory of her uncle and Jeremy for allowing us to post this material and for his work as a writer for Silver Star Families of America. Thank you also to Find A Grave contributor, Becky Mitchell, for the use of the grave marker photo.
Jeremy also has a book out, titled "The Lucky Ones", which chronicles the military service of Norbert Gerling who served in Co. C, of the 609th Tank Destroyer Battalion. You can find out more about his book at the following pages, Missouri at War, Amazon and Barnes and Noble.