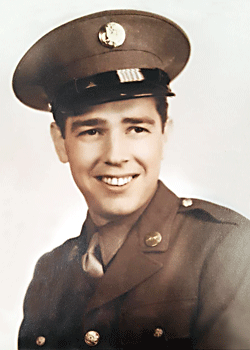 Richard C. Schuck
Biography: Richard Casper Schuck was born on April 23, 1916, in Perth Amboy, New Jersey. He was the son of Anton Joseph Schuck and Louisa (Lulu) Regan and moved with the family to Alabama at some point. He graduated in 1934 from Woodlawn High School in Birmingham, AL.
He then worked as a lab technician for the Union Carbide company in Bound Brook, NJ. His duties while at the company included testing molded Bakelite products for tensile strength, hardness and impact resistance.
Service Time: Richard entered the service on October 3, 1941, and began his training at Camp Croft, South Carolina. It was there on November 19th, while on leave, that he married the former Florence Marie Cowell. Florence was also born in Perth Amboy and was the daughter of William C. Cowell and Mame (Mary) Stahlin. She traveled from her home in New Jersey to the base in South Carolina and then to nearby Spartenburg, where the couple was married. Two of Richard's buddies from camp came along to be witnesses at the ceremony.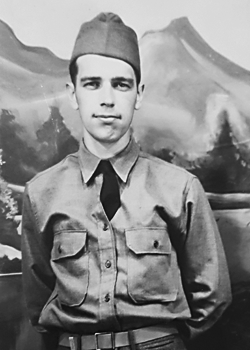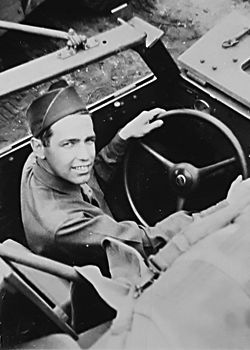 After completing his initial training, which included time at Fort Meade, Maryland, Richard was eventually assigned to Company C of the 805th Tank Destroyer Battalion and served as a clerk in the unit. He would train with them at a number of military facilities, including Camp Hood, Texas, and Indiantown Gap Military Reservation, Pennsylvania, while still in the U.S. The unit shipped out from the New York port, on August 5, 1942, and arrived in England on the 18th. After a few months of additional training and preparations, they shipped out again, landing in Algiers, Africa, on January 17, 1943. They were equipped with M3 tank destroyers.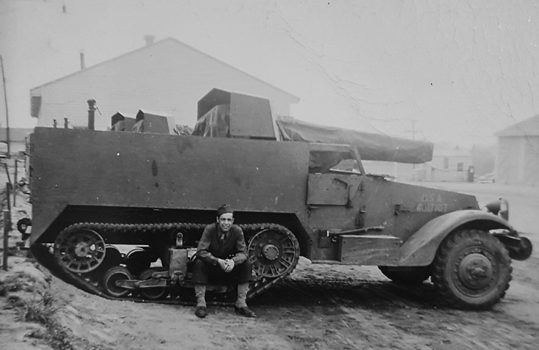 The 805th was committed to actions at Gafsa, Tunisia, and on February 17th, at the battle of Kasserine Pass. They converted to towed 3-inch guns in October 1943 and were the first to use them. They boarded transports and debarked in Italy on October 28th at Bagnoli. They then shipped to the Anzio Beachhead on March 12, 1944, and served largely as artillery even after being re-equipped with M18 tank destroyers in June through August. The 805th was the only unit with M18s in the MTO (Mediterranean Theater of Operations). Their TDs were part of the advance guard at the capture of Bologna and Brenner Pass.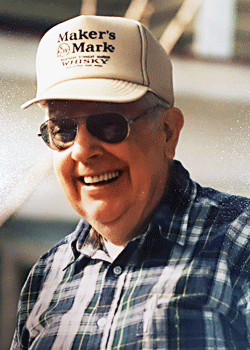 The 805th received credit for the campaigns of Tunisia, Napples/Foggia, Rome Arno, the North Apennines and Po Valley. Richard shipped home on June 4th and arrived in Virginia on the 14th. He was discharged on June 23, 1945, at Fort Dix, NJ. He held the rank of Corporal and received the Purple Heart in recognition of the shrapnel wounds he received to his face.
Now back in the U.S., Richard returned to Florence and his son Richard Jr., who was born in 1942 while Richard Sr. was overseas. He also returned to his job as a Lab Technician with Union Carbide. Richard and Florence made their home in New Brunswick, NJ and had three additional children, Gregory born in 1946, and twins Deborah and Robert born in 1951. In his spare time, Richard enjoyed reading, cooking and travel. He remained at Union Carbide until he retired in 1979, after 47 years with the company.

Richard passed away on May 2, 1984, and was buried in the St Peter's Cemetery in New Brunswick, NJ. I want to thank Richard's son, Robert, for providing the information and photos for this tribute.