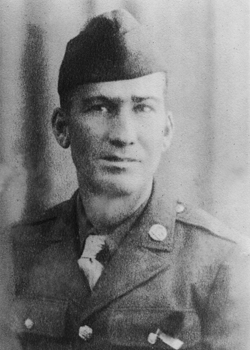 Fred S. Shoe
The following tribute was researched and written by Lowell Silverman.
Biography: Fred Samuel Shoe was born on May 10, 1908 in Cabarrus County, North Carolina, the fifth of eight children born to William Robert Shoe (1877–1962) and Margaret Julia Shoe (née Hurlocker, 1873–1958). The family had a farm and Fred was recorded as a farm laborer on the 1930 census. By May 22, 1940, when he was recorded again on the census, Shoe was still living with his family in Mount Pleasant Township, but was now working as a hopper feeder at a cotton mill.
When he registered for the draft on October 16, 1940, Shoe's employer was identified as Cannon Mills in Concord. He was described as standing 5 feet, 8 inches tall and weighing 140 lbs., with brown hair and gray eyes.
Service Time: Shoe joined the U.S. Army at Fort Bragg, North Carolina on April 18, 1942. It is likely, though not confirmed, that he joined the 894th Tank Destroyer Battalion while still stateside; his entry in A History of Cabarrus County in the Wars states that he took "part in four battles in North Africa." That's mostly consistent with the history of the 894th Tank Destroyer Battalion, which fought at Kasserine Pass, El Guettar, and Bizerete in early 1943 during the Tunisian campaign.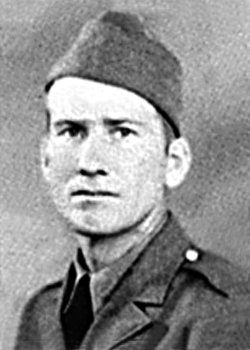 The unit re-equipped after Tunisia, exchanging their M-3s for M-10 tank destroyers. The 894th shipped out to Italy in the fall of 1943. After initially acting as self-propelled artillery near Cassino, in January 1944 the unit was deployed to the Anzio beachhead.
If he wasn't already, by the end of the Battle of Anzio, Shoe had been promoted to corporal and was a member of Company "A" of the 894th Tank Destroyer Battalion. On May 23, 1944, Allied forces began the long-awaited breakout from the Anzio beachhead. However, there was still a great deal of fighting ahead before Rome fell on June 4.
Patrick J. Chase wrote in his book Seek, Strike, Destroy: "PFC [sic] Fred S. Shoe, a friend of [PFC J.C.] Wright's, was riding in the M10 just ahead of his. Shoe made the mistake of raising his head out of the turret to look around. A German sniper hit him in the neck with a rifle bullet. Although wounded himself, Wright held Shoe in his arms as he died from suffocation." Curiously, a digitized hospital admission card for him states that Fred was injured in the trachea by artillery fragments but apparently survived long enough to make it to a hospital. Although medical personnel attempted a tracheotomy, they were unsuccessful in saving his life.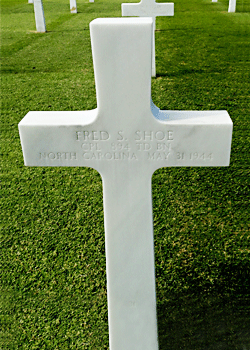 Corporal Fred S. Shoe died on May 31, 1944, aged 36. He was posthumously awarded the Purple Heart. Corporal Shoe was buried at the Sicily-Rome American Cemetery in Nettuno, Italy in Plot H, Row 4, Grave 31. His grave marker is shown on left. A cenotaph (monument) to his memory was also placed at Bethel Bear Creek Reformed Church Cemetery in Mount Pleasant, North Carolina and is shown below.
Thank you to Lowell Silverman for your research and writing this tribute. Thank you to the Moose family for the main photo and to Find A Grave contributor John, for the use of the grave marker image. The second image of Fred is from "A History of Cabarrus County in the Wars". Appreciation also to Terrence McManaway for providing the centotaph photo, which he photographed in 2007.