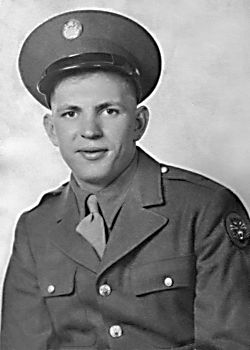 Stanislua Szczygiel
Biography: Stanislua Szczygiel, "Stanley", was born on August 5, 1922, in Detroit, Michigan. He was the son of Joseph Szczygiel and Stefania Suiskiewicz and attended Birch Run School through the 6th grade. He then worked as a farmer on his father's property until 1940, when he was hired by the Lincoln Motor Co. as a machine operator. While there, among his various tasks, he specifically worked on aluminum and steel castings used in the making of tank motors.
Service Time: Stanley entered the service on January 12, 1943, at Fort Custer, Michigan. After his basic training, he was assigned to the ERC (Enlisted Reserve Corps) until he was needed. He was ultimately assigned to Company C of the 820th Tank Destroyer Battalion and trained with them within the U.S. We know that Stanley trained at both Camp Bowie and Camp Hood, Texas, as indicated by the rifle score books shown below. On February 5, 1944, he qualified as as Expert with the M1 Rifle.
Rifle Score Books – Camp Hood and Camp Bowie, Texas
The 820th was stationed at Camp Breckenridge, Kentucky, for some time and was equipped with the M5, 3 inch towed anti-tank guns, which were pulled by the M3 half-track. Stanley was trained as a driver of a reconnaissance car.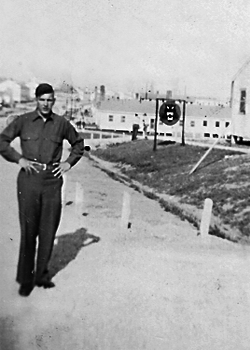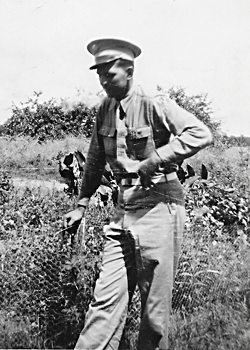 The battalion left Camp Breckenridge on September 25, 1944, and traveled to the Boston port, where they boarded the USS Mount Vernon (which was originally the luxury liner George Washington) on the 27th. On October 14, the ship docked at Liverpool, England and they went by train to Southampton, arriving on the 16th. They boarded the English ship HSS Rapier for France on the 17th, but they were delayed for 3 days. They were finally transported across the English Channel and loaded onto LCIs (Landing Craft Infantry) for the actual landing at Omaha Beach. After climbing over a small mountain, they were loaded into trucks and moved inland to Valognes, France. From October 21st through November 30th, they were supposed to prepare for combat, but were unable due to constant rainfall.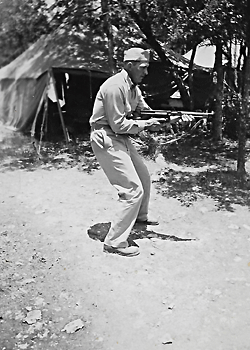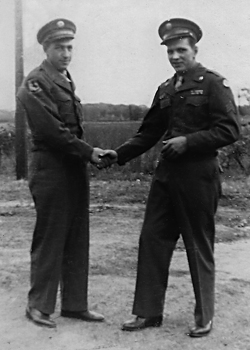 In the photo above left, Stanley poses with a Thompson sub-machine gun. The photo at right includes Stanley and his younger brother Anthony, who also served in the Army. This photo is thought to have been taken at the family farm while the brothers were home on leave.
As a convoy, they moved across France and into Belgium, arriving at Rosmeer on December 3rd. On December 9th, they moved to Braunlauf, Belgium and were attached to the 106th Infantry Division of the First Army. The 820th Record of Events for December says "On December 11th, Company C, less the second platoon was placed in position at Bleialf, Germany 11 December 1944, 0400 hrs. There was no activity in this area until Saturday night 16 December 1944. At this time heavy artillery fire and mortar fire, was entered upon us. The German infantry started moving forward. Saturday night 16 December 1944, the Company CP was moved back to an overnight bivouac four and one half (4-1/2) miles NW of Bleialf, Germany. The Company Commander was with the 3rd platoon CP on the high ground above Bleialf. The 1st and 3rd platoons remained in position until Sunday, 17 December 1944, 0920 hrs, and the enemy infantry was attacking us from all sides, and mortar and rifle fire from the rear. Just before march order was given by the Company Commander, I saw the Germans taking our men prisoners, they were of one section of the 3rd platoon."
Stanley was one of the men taken prisoner and would be taken to Stalag 4B in Muhlberg, Germany. Stalag 4B was one of the largest prisoner of war camps in Germany and over 400,000 prisoners from 40 nations passed through the camp between 1939 and 1945. Stanley related to his family that during the day they would repair rail lines that had been bombed. When planes flew over, the prisoners would form the letters POW, hoping not to have a bomb dropped on them. They received only a cup of broth when they returned and that was all they had to eat. When Stanley was finally discharged, he weighed on 120 pounds when he was released, which was a 50 lb difference from when he went in. Russians liberated the camp and would not give them any weapons but pointed them in the direction of the American lines. Stanley hid in the forest and in an abandoned barn during the day and traveled by night. It took 3 days to finally reach American troops. Stanley had met a Polish boy, who worked for an undertaker, and thought he might be able to help him escape because he spoke fluent Polish but he said he only saw the boy that one time.
Stanley shipped home on June 4, 1945, and arrived back in the U.S. on the 12th. He was promoted to Sergeant and was assigned the task of giving orientations on tactics and weapons and supervised processing of overseas replacements at the replacement depot. He received credit for each of the unit's three campaigns, including Rhineland, the Ardennes and Central Europe. He was awarded the WWII Victory, the American Campaign and the Good Conduct Medals and was discharged on November 29, 1945, at the Fort Ord Separation Center.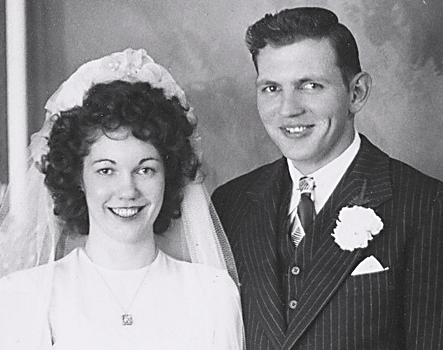 Now back in the U.S., Stanley went to work at General Motors as a machine operator while living in Flint, MI. He officially changed his name to Stanley Seigel and on April 25, 1947, he married the former Gladys Jane Green who was born in Saginaw, MI, and was the daughter of William Green and Olive Bixby. The new couple would have a son Stanley, in 1949, and a daughter, Katherine, in 1951.
In his spare time, Stanley enjoyed fishing and hunting but his years as a farmer never left him. He loved growing flowers and had a large vegetable garden every year until his death. He was also a member of the UAW #659. Stanley retired from General Motors in 1977, after 30 years with the company.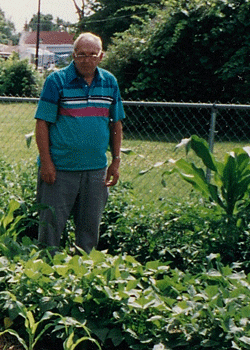 Stanley passed away on April 23, 2009, and his body was cremated. I want to thank Stanley's daughter, Katherine, for providing the information and photos used in this tribute.