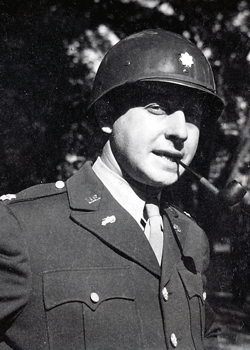 William B. Sprague, Jr.
Biography: William Buell Sprague, Jr., "Bill" was born on December 23, 1914, in Flushing, New York. He was the son of William Buell Sprague Sr. and Valeria Fay Wilmerding and attended Allen-Stevenson School and graduated from the Taft School.
He continued his education at Williams College in Williamstown, NY, graduating in 1935. Prior to the war, he moved to the Dallas area and worked as a freelance radio actor, writer and announcer. He also married the former Edwina Middlebrook.
Service Time: Bill entered the service on April 7, 1941, at Dallas, TX. Little is know of Bill's early service but we do know that he was serving with the 2nd Tank Destroyer Training Battalion, which was stationed at Camp Hood, TX.
On March 13, 1943, Bill was transferred to the 9th Tank Destroyer Group to replace Major Howard B. Crandall, who had been transferred to the 18th TD Group. The 9th had been activated at Camp Hood, TX, on Oct. 13, 1942. The unit moved to Camp Bowie, TX, on December 4th, but was ordered back to Camp Hood on March 5, 1943. From there, the unit went to the Tennessee Maneuver Area on June 18th for war games. During the maneuvers, Bill was serving as the unit's S-2 (Intelligence & Security) Officer.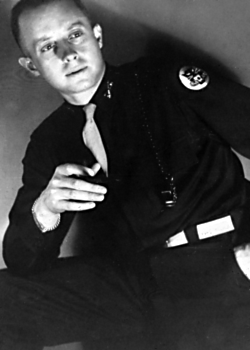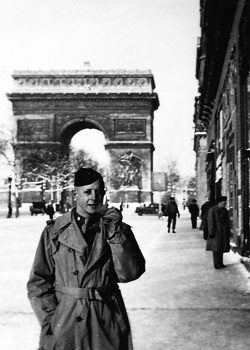 They then went to Camp Atterbury, Indiana, arriving on August 29th as part of the IV Armored Corps and joined XX Corps on October 9th, later joining the XXII Corps on January 25, 1944. On November 6th, Bill was sent to Gas School at Camp Breckinridge, Kentucky, which was conducted by the XX Corps. After Bill returned to the unit, they moved to Camp Kilmer, New Jersey on March 31, 1944, to prepare for overseas shipment. Bill was promoted to Major while still in the U.S., and they shipped from the New York Port of Embarkation on May 3rd, arriving in England on the 16th. After some additional training, they boarded the U.S. SS William Pepperrell for transport across the English channel. They landed on Utah Beach, on July 31, 1944, where they acted as the XII Corps Advanced Information Center. Moving into Luxembourg on December 21st, and then into Germany on March 9, 1945. Bill was one of a number of officers that were sent to Paris to attend the I and E School. On June 20th, he was promoted to Lt. Colonel.
The unit shipped back to the U.S., arriving in Hampton Roads, VA, on August 9th. From there it was back to Camp Hood, on August 13, 1945, where there were eventually deactivated on November 1st. Bill received credit for each of the unit's campaigns including Northern France, Rhineland, the Ardennes and Central Europe.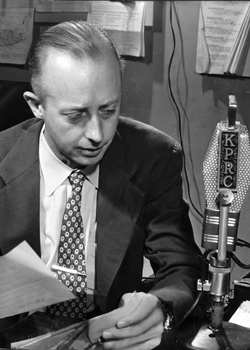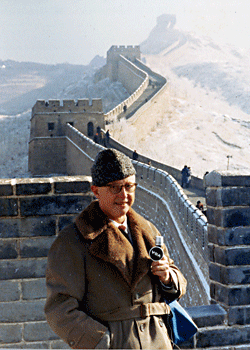 Now back in the U.S., Bill went back to his radio career, becoming a news reporter in Houston until 1950, when he joined the NBC radio network in New York as a writer and editor. Bill's first marriage had come to an end and on May 12, 1951, Bill married the former Mary Aileen Norton, who had been born in Shreveport, LA, and was the daughter of Robert Louis Norton and Lula Aileen Martin.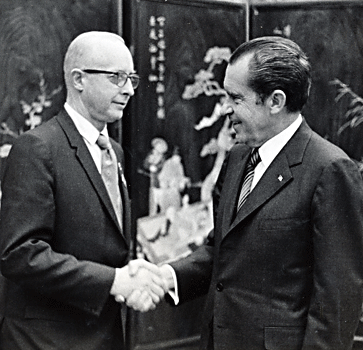 From 1952 to 1955, he worked as the coordinator and narrator of NBC's "World News Roundup" and then from 1955 to 1960, he worked as the anchor on WRC-TV in Washington. In 1963, his career shifted when his communications skills were put to use by the Republican National Committee.
In 1964, Bill worked as the Public Relations Director for the Parker Pen Company until 1965, when he became the White House correspondent for the Voice of America during the administration of President Richard M. Nixon and then the State Department correspondent for the Voice of America during the administration of Gerald R. Ford. He lastly worked as the Communications Director for the Radio and Television News Directors Association from 1976 to 1983.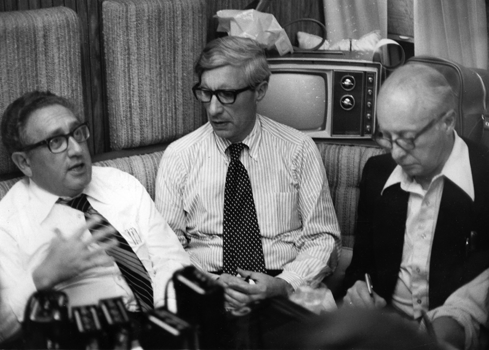 Bill's family expanded with the birth of three sons, Robert born in 1957, Edward (Ted) born in 1958, and Peter born in 1963. In his spare time, Bill enjoyed music, theater, painting, model railroading and a variety of home improvement projects. Bill passed away on January 22, 1998, and was buried in the Arlington National Cemetery in Arlington, Virginia.
I want to thank Bill's son Ted of providing the information and photos from this tribute. Thank you also to Find A Grave contributor, David McInturff, for the use of the grave marker photo.