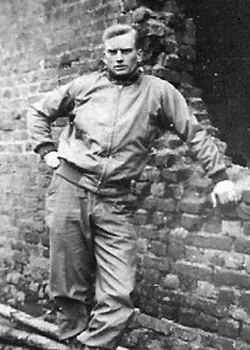 Clayton P. Sanders
Biography: Clayton Paul Sanders, who went by "Paul", was born on April 24, 1920, in Grundy County, Tennessee. He was the son of Jay Herbert Sanders and Veda Mae Burrows and attended Coalmont Grade School in Coalmont, TN. After leaving school, he worked in farming until he joined the C.C.C. (Civilian Conservation Corps) as a truck driver. He then went into the Merchant Marines for a period before joining the Army.
Service Time: Paul enlisted on November 29, 1941, at Camp Forest, Tullahoma, TN. He was transferred to Fort Oglethorpe in Georgia, where he received his uniform and then to Fort Bragg, North Carolina, for 16 weeks of basic training as an Artilleryman.
He was transferred to Madison Barracks, New York and assigned to the 258th Field Artillery, moving with them to Pine Camp, New York, where they would provide personnel to the 771st Tank Destroyer Battalion. Paul was assigned to Headquarters Company of the 771st, which travelled to Fort Ethan Allen, Vermont, and then to the A.P. Hill Military Reservation in Virginia.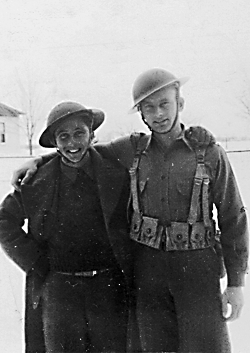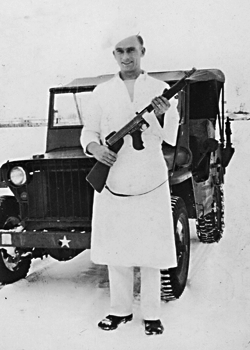 Above left is a photo of Paul and a friend that was taken at the Madison Barracks in New York. The photo above right is Paul while filling in for the cook.
Driving Proficiency Certificate
On May 24th, 1943, while on leave from the unit, Paul travelled to Rossville, Georgia, and married the former Alma L. Sweeton, who was born in Grundy County, Tennessee and was the daughter of John William Edward Sweeton and Maude H. Hargis.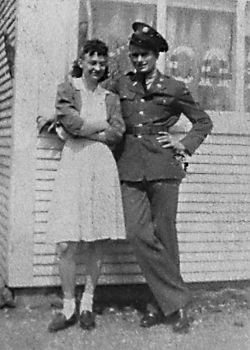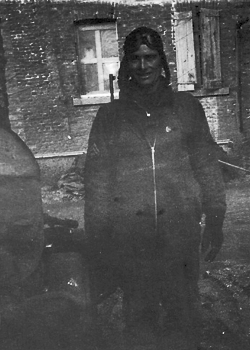 The photo above left shows Paul and Alma soon after their marriage, in May of 1943. On right, Paul is shown in his motorcycle gear.
The 771st would continue their training within the U.S., at a number of additional facilities including Camp Hood, Texas, in early 1943, before returning to Fort Ethan Allen and A.P. Hill. The unit then moved to Fort Dix, New Jersey, for final preparations before shipping overseas. They transferred to Camp Shanks, New York, for staging and departed the U.S. on October 21, 1943.
The unit arrived in Liverpool, England, on November 4th, and went to Cardiff, Wales, for advanced training. The 771st was chosen to train other TD personnel in the ETO Troop Replacement system. Company A would move out and act as an advanced unit to ship to France in late August, 1944. The rest of the battalion would ship out on September 15th and join them on the mainland, equipped with M10 tank destroyers. They entered combat with the 102nd Infantry Division against the Siegfried Line defenses along the Würm River on November 3rd and participated in the drive to the Roer River, holding defensive positions there during December. Converting to M36 TDs in January, 1945, they supported the drive toward the Rhine River in February and crossed the Rhine beginning March 31st. They joined the 102nd Infantry Division's drive across Germany toward the Elbe River, reaching the Elbe on April 14th.
The 771st spent the remainder of the war helping to mop up bypassed pockets of resistance between the Rhine and the Elbe. Their travels in Europe included Liege, Belgium, then Haarlem, Holland and cities in Germany; Pallenberg, Dusseldorf, Moos, Krefeld, Ostbevern, Palenbery and Gardelegen where over 1000 slave laborers were massacred by the Germans. It was his actions during one of these "mop-up" missions that lead to his award of the Bronze Star. His efforts to deliver vital messages "contributed materially to the success of the battalion's military operations." Paul told his family that it was his responsibility to get important messages from HQ, to each of the other companies. He normally travelled by motorcycle and would routinely encounter enemy gun fire.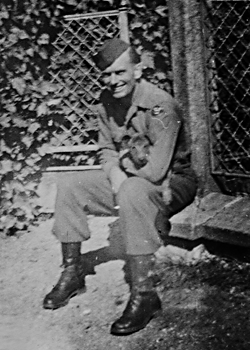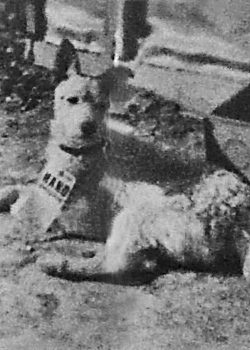 The photo above left shows Paul somewhere in Germany, probably after the war had ended. The photo at right is Paul's small friend Midget, which he befriended during the war.
On V.E. day, he stated that their troops had just taken Stendal, Germany, where they stayed as the Occupation Army. He was sent home via Marseille, France, arriving in the U.S. on Nov. 9, 1945, aboard the Joseph P. Nicholson, at New Port News, VA. They had been at sea for 17 days. Paul received credit for campaigns in the Rhineland and Central Europe. In addition to the Bronze Star Medal, he also received the European African Middle Eastern Theatre Ribbon, American Defense Ribbon, American Theatre Ribbon and Good Conduct Medal. He was discharged at Fort Knox, Kentucky, on December 3rd and left the service at the rank of Technician 5th Grade.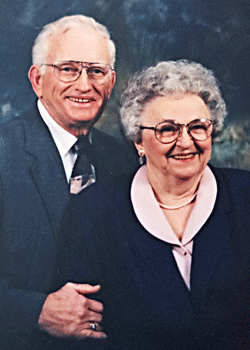 Now back in the U.S., Paul and Alma made their home in a small house he built in 1946, next to Alma's parents, in Coalmont, TN. He initially worked in the local coal mines there but found it unbearable. Hearing of good paying jobs up north, Paul and two uncles, jumped on a bus and headed for Detroit, where he would find a job with Dodge Truck. After working there for four months, he returned to Coalmont to persuade Alma to go back with him to Detroit. At the time, the couple already had a young daughter Barbara, who had been born in 1946, The family would move and after some time, Paul was laid off and found a job at General Motors and later with Midland Steel. The family moved to Madison Heights , a suburb of Detroit, in 1950.
The photo at left is Paul and Alma in 1995, which would have been the year of their 52nd Wedding Anniversary.
In 1955, he was accepted in an apprenticeship as a toolmaker at McGregor Manufacturing, which was a supplier to the aerospace industry. He worked there until 1960, when he received his Journey Toolmaker status. He then went to work as a Journeyman Tool Maker at the Chrysler, Warren Truck Plant. The family moved to Hazel Park, Michigan, where they stayed until 1986, when he retired from Chrysler. Paul and Alma moved back to Tennessee, living in the Manchester area.
In addition to their daughter, the couple would have two sons, Paul born in 1948, and Steve born in 1951. In his spare time, Paul enjoyed motorcycling, woodworking, gardening, and small game hunting. He raised beagles in support of his hunting interests and found time to supervise and cook for the monthly breakfast fundraiser, held by the Hazel Park Masonic Lodge, where he was a Lifetime Member and Past Worshipful Master. He was also a member of Knights Templar, Moslem Shrine and their Motor Cycle Corp, member of Order of Eastern Star and 5x Past Patron. He was a member of Freewill Baptist Church as well.
Paul passed away on December 3, 2004, and was buried in the Rose Hill Memorial Gardens in Tullahoma, Tennessee. I want to thank Paul's son, Paul, for providing the information and photos for this tribute.