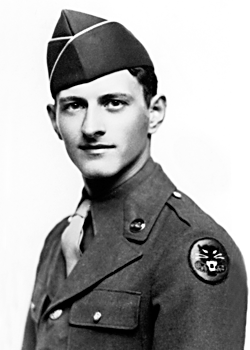 Joseph J. Strauch
Biography: Joseph Julius Strauch was born on June 29, 1916, in New York City, New York. He was the son of Andras Strauch and Maria Beke and attended Saint Stephens Grammar School in NYC. After leaving school, he worked as a sales clerk.
On June 11, 1939, he married the former Margaret Julia Blasko, who was also born in NYC and was the daughter of Imre Blasko and Anna Bachlet. The new couple would make their home in NYC.
Service Time: Joseph entered the service on July 20, 1943, at New York City, and after his basic training, was assigned to a tank destroyer battalion. We do not have information regarding his military service but we do know that he served in the European Theater and was wounded. Hospital admissions records indicate that he was admitted to the hospital in July of 1944, for a tarsel bone (ankle area) injury. This would have occurred while serving in France. His injuries would require him to be shipped home for treatment and rehabilitation and he was finally discharged in June 1945. He received the Purple Heart in recognition of his wounds and was awarded the American Campaign, WWII Victory, EAME and the Good Conduct Medals. He also received the Conspicuous Service Commendation and was discharged at the rank of Sergeant.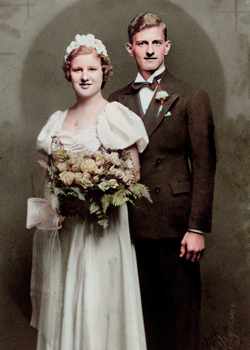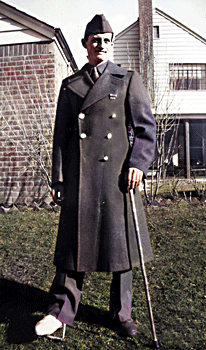 The photo above left was taken on the occasion of Joseph's and Margaret's wedding in 1939. The photo at right is Joseph after he had returned home from Europe.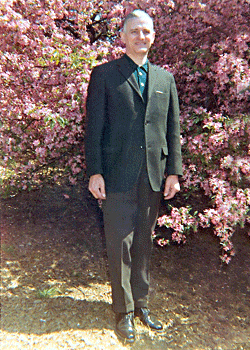 After the war, Joseph went to work for the United States Post Office. He and Margaret would have a son, Joseph, born in 1947. In his spare time, the senior Joseph enjoyed fishing. He passed away on July 28, 1993, and was buried in the St. Michael's Cemetery in Astoria, NY. I was to thank Joseph's son for providing the information and photos for this tribute.