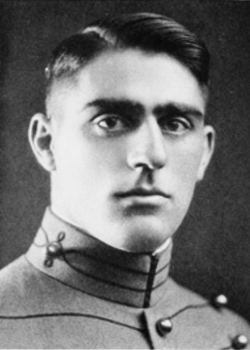 Louis J. Storck
Biography: Louis John Storck, "Lou", was born on July 1, 1897, in Philadelphia, Pennsylvania. He was the son of William John Storck and Mary Elizabeth Laughlin and grew up in Philadelphia but the family moved to Atlantic City, New Jersey.
Service Time: Lou entered the service in 1918, and serving briefly in WWI with 1st Co. of the Potomac Coast Artillery Corps and with Company C of the Coastal Artillery School troops from June 8, 1918 through December 5, 1918. After the war, he would receive a congressional appointment to West Point and attended the school from June 13, 1919, to June 12, 1923, graduating as a 2nd Lt. of Infantry. It was at West Point that he would excel in football and was also a rifle marksman. His West Point yearbook mentions that he served as a lifeguard in Atlantic City and it hints at his less than stellar academics. As the story goes, Brigadier General Douglas MacArthur was the school's Superintendent at the time and Lou's grades nearly had him expelled. It was his status as the football team's star that would sway MacArthur to keep him in school and playing. During the 1922 game against Navy, Lou kicked the wining field goal.
On October 1, 1924, at West Point, New York, Lou married the former Jean Hileman McCracken who was born in Altoona, PA, and was the daughter of George Scott McCracken and Frances Elizabeth Hileman. The new couple would have three children, Louis Jr., born in 1928, George in 1930 and Mary Ellen "Molly" in 1932.
Lou would make the military his life and served at a variety of locations, including Fort Screven in Georgia. He would continue his schooling with both the Infantry School's Co. Officer Course in 1932 and the Tank Course in 1933. He was promoted to Captain on August 1, 1935, Major on July 1, 1940 and Lt. Colonel on December 24, 1941.
The 704th Tank Destroyer Battalion was formed from personnel of Battery D, of the 22nd Armored Field Artillery Battalion, of the 4th Armored Division on December 15, 1941. Additional personnel from the Fourth Armored Division Training Center and later, men from Fort Knox, Kentucky, who had completed their basic training at the Armored Force Replacement Center would be added to the battalion. Lt. Col. Louis J. Storck took command of the unit on May 13, 1942, succeeding Lt. Col. Sears. Storck would remain in that position until June 21st, when he was replaced by Major Delk M. Oden. On March 26, 1943, Storck was promoted to Colonel.
In addition to the 704th, Lou also served as Executive Officer of the Fourth Armored Division, the commander of both the 37th Armored Regiment and CCR (Combat Command Reserve) of the Division. As the Division's S-3 (Operations) Officer, he was responsible for the training of the division's armored infantry battalions and received the nickname "Black Lou".
The Combat History of the Fourth Armored Division indicates that they had landed on Utah Beach on July 13, 1944. As the German forces were being driven back and farther south, the Fourth was able to take Coutances, France, by the 28th. It was while serving with the CCR on July 30, 1944, that Col. Storck was taking part in a mission to gather up German soldiers that had fallen behind the lines to obtain needed intelligence information. While in the area of Croix-Quillard, which is the northern district of Coutances, Col. Storck's jeep hit a mine and he along with his driver and their radio operator were killed. Col. Walter A. Bigby would be named to replace Storck as CCR commander.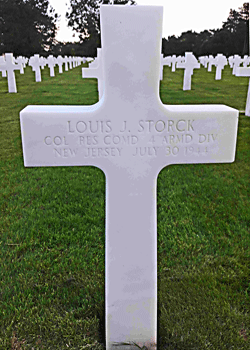 Col. Louis J. Storck was posthumously awarded the Silver Star for Gallantry in Action near Raids, France. He would also be awarded the Legion of Merit for Meritorious Conduct in performance of outstanding services from September 10, 1943 to July 30, 1944. He also received the Purple Heart in recognition of his ultimate sacrifice. He was buried in the Normandy American Cemetery Colleville-sur-Mer, France, Plot E, Row 17, Grave 34.
In addition to his military honors, Col. Storck was also memorialized by the naming of the Storck Barracks, located in Illesheim, Germany (photo below). He was further honored in 2011, by the naming of the Colonel Louis J. Storck Community Activity Center, which is located within the Storck Barracks facility. On July 28, 2009, the Colonel Storck Square was dedicated in Pont-de-Soulles, France, which is near the location of his death.
I want to thank Find A Grave contributor, Harvey Wolchan, for the use of the grave marker image and E-Yearbook.com, for the photo of Lou, while a student at West Point. The photo is used by permission of Digital Data Online, Inc.
Louis J. Storck Jr., would follow in his father's footsteps by attending West Point, graduating in 1951. While there, he participated in their track and field program. He would go on to serve in Korea and was killed on October 6, 1952, and buried in the United States Military Academy Post Cemetery, Section VII, Site 150. He was awarded the Silver Star posthumously for Gallantry and the Purple Heart. He held the rank of 1st Lieutenant. A historical marker was placed in memory of Lt. Storck, on the West Point property, next to the track at Shea Stadium.