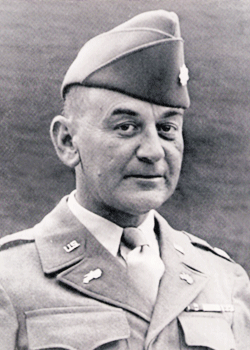 Conrad B. Sturges
Biography: Conrad Boyd Sturges was born on June 11, 1901 in Vance County, North Carolina. He was the son of William Kearny Sturges and Ella Belle Boyd. We don't have any information on his early schooling or work history. On June 4, 1930, he married the former Louise Terrell Allen in Franklin, NC. She was born in Franklin County and was the daughter of Felix Hill Allen and Lou Reynolds Ford. They had a daughter, Lula R. and son, Conrad B. Jr.
At some point, Conrad attended Carnegie Tech and was a member of Tau Omega and Sons of the American Revolution. At the time of his marriage, he was working for the Harriet & Henderson Mills (cotton) in Henderson, NC.
Service Time: Conrad entered the National Guard, Company C, 120th Infantry, Henderson, N.C., on January 31, 1921. By July 15, 1924, he's listed as a 1st Sergeant. On September 5, 1931, he's a 2nd Lieutenant, Infantry, a 1st Lt. on December 16, 1931 and a Captain on April 8, 1935. He graduated the NG Infantry School Officer's Course in 1939. After his unit was federalized, he was promoted to Major on February 8, 1941 and graduated the Infantry School Battalion Commander and Staff Officer Course that same year. His promotion to Lt. Colonel came in July, 1942.
On July 8, 1942, Lt. Colonel Sturges joined and assumed command of the 774th Tank Destroyer Battalion, stationed at Fort Jackson, South Carolina. Almost immediately they moved to the Tennessee Maneuvers after which the unit shipped out to Camp Hood, Texas. Leaving Camp Hood on March 11, 1943, they moved to Fort Benning, Georgia, where they received new M10 Tank Destroyers. At the end of August, they moved to Camp Forrest, TN, to participate in the Second Army fall maneuvers. Camp Gordon, Georgia was next where they were converted to a towed 3" anti-tank gun battalion and training with the new weapon began.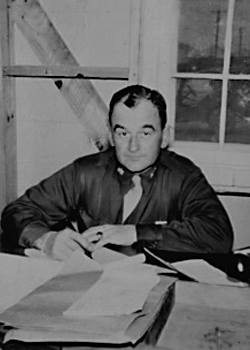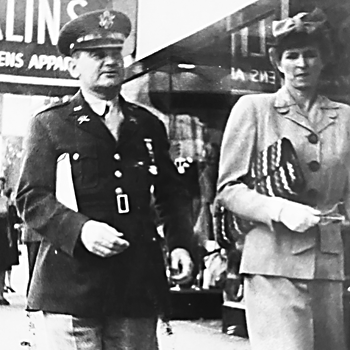 The photo above left looks to have been taken in one of the camp offices within the U.S., possibly while he commanded the 774th. The photo on the right is Conrad and his wife Louise, taken somewhere in the U.S., believed to be New York, NY or Nashville, TN.
The unit shipped out from the New York Port on June 3, 1944, and arrived at Gourock, Scotland, on June 12th. After some additional training and preparations for actions in France, they boarded transports and debarked at Utah Beach, Normandy, France on August 7th, joining the fighting around Argentan. The unit moved eastward to Lorraine as part of a cavalry screen with the 7th Armored Division, participating in fighting around Metz, France, starting in September.
The 774th fought along the Saar in December and then joined the rush north to the Ardennes. They converted to the M36 tank destroyer in late February, 1945, and drove to the Rhine River, Germany, in March. They held the Rhine, west of the Ruhr Pocket in April, and then took on military government duties. Conrad shipped home with the unit on October 20, 1945, arriving at Staten Island, New York, on October 28th. He retired from the Army on January 8, 1959 as inspector general at Fort Jackson, S.C. At the time of his retirement, he held the rank of Colonel. Among the many decorations he received during his military career, he had been awarded the Bronze Star Medal with oak leaf cluster, designating his second award of the medal.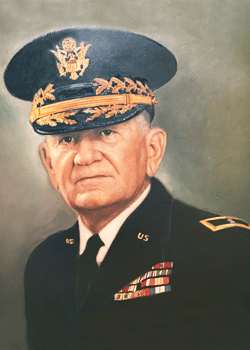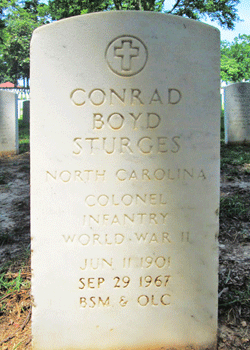 After returning to the U.S., Conrad served as the Executive Secretary of the Henderson-Vance Chamber of Commerce. Following a long illness, he passed away on September 29, 1967 in Henderson. He was buried in the Raleigh National Cemetery, Section 15, Site 1302, Raleigh, Wake County, North Carolina. We would like to thank Find-a-Grave contributor MJD for use of the grave marker photo and we also want to thank the Sturges family for providing photos and information for this tribute.