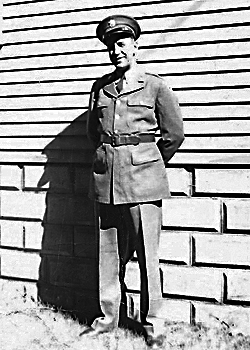 Julius Souza
Biography: Julius Souza was born on March 15, 1906, in New Bedford, Massachusetts. He was the son of John Souza and Julia Pacheco Alexander and attended local schools through the grammar level. He worked for the Fisk Rubber Company in New Bedford just prior to the war but his enlistment record identifies that he had experience in the manufacturing of textiles.
Service Time: Julius entered the service on March 19, 1943, at Boston, MA. After his initial training, he was assigned to the Headquarters Company of the 643rd Tank Destroyer battalion and trained with them at a number of military facilities including, Camp Blanding, Florida, Camp Shelby, Mississippi, Camp Hood, Texas, the Desert Training Center and Camp Ibis, California, Camp Laguna, Arizona, Camp Gruber Oklahoma, and Camp Swift, Texas.
A small detail shipped out for the United Kingdom on August 10, 1944, and arrived in Glasgow, Scotland on the 22nd. They boarded transports landed at Utah beach on the 31st. The rest of the unit would ship out from the Boston port on September 5th and arrived at Cherboug France on the 15th. They were equipped with 3″ towed guns and were first engaged near Manhay, Belgium, on December 22nd. The 643rd crossed the Roer River on February 24, 1945.
The unit re-equipped with M18 tank destroyers in March, when they crossed the Rhine River at Wesel and the Elbe River en route to Zerbst. They were then withdrawn to take up occupation duties in the Harz Mountains. Julius was responsible for the distribution of rations to the soldiers, which was critical to the health and success of the battalion. It was in the exercise of his duties from December 22, 1944, to April 1, 1945, that on many occasions, he volunteered and braved enemy fire and dangerous blackout conditions to distribute of the men's rations. For these actions, he was awarded the Bronze Star for Meritorious Service by the 83rd Infantry Division.
The unit received credit for campaigns in the Rhineland, the Ardennes and Central Europe and Julius left the service at the rank of Technician 5th Grade.
After returning to the U.S., Julius married the former Maria "Mary" M. Fayal in 1946. Mary was also born in New Bedford and was the daughter of Manoel De Medeirois Fayal and Virginia Amelia D'Amaral. The new couple would make their home in New Bedford and Julius would work as a doffer, replacing spindles of spun fiber with empty ones in the spinning rooms of local textile mills. He later retired from the New Bedford Rayon mill, where he worked as a washer and dryer.
Julius passed away on September 1, 2001, and was buried in the Rural Cemetery also in New Bedford, MA. Thank you to Julius' relative MarGrett, for providing the photo of him.