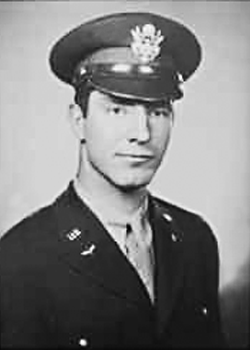 Allan R. Scullen
Biography: Allan Richard Scullen "Al" was born Richard Lenahan in Providence, Rhode Island. He was the son of Ella Lenahan and was adopted at birth by Charles J. Scullen and his wife, Margaret Donnelly Scullen. He attended Albert N. Parlin Middle School and graduated from Everett MA High School in 1933.
Al continued his education at the West Point Military Academy, graduating in 1942, but his time there was not without difficulties. He started in July of 1933, when he was only 18, standing 6′-4″ and was known as "Big Al" to his friends. He played football, hockey and lettered in track, taking part in both the fishing and ski clubs as well but due to his lower than necessary grades in both Mathematics and English, he was dismissed from the Academy in January of 1934. His determination would bring him back for re-admission in August of 1937, but his grades in English would again send him home in June of 1939. Unwilling to quit, he was re-admitted again in January of 1940, and finally graduated on May 29, 1942, at the age of 27, and receiving his commission as a Second Lieutenant. He had additional close calls with the Academy's Academic Board over the nine years but through it all, he persevered.
Service Time: It wasn't long after he entered active service that Al headed to Camp Hood, Texas, for a Basic Orientation course and was ultimately assigned to the 603rd Tank Destroyer Battalion as the Commander of their Reconnaissance Company. In September through October of 1943, he took part in the Advanced Officers' Course there. He furthered his training at the Cavalry School in Fort Riley, Kansas, and took part in their Advanced Officer Course from January through March 1944.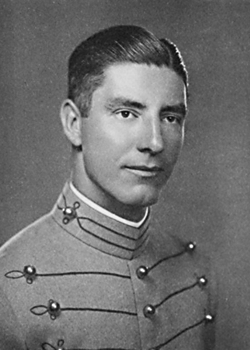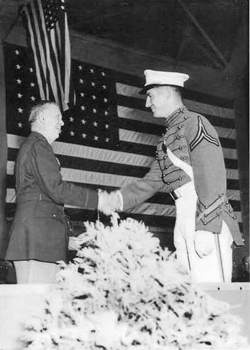 The photo above left is Al as a cadet at West Point. The photo at right is Al being congratulated by Army Chief of Staff, General George C. Marshall, at the time of his graduation.
The 603rd shipped out from the New York port on April 11, 1944, and arrived at Cannock, England, on April 18th. After some additional training and preparations, they boarded transports and landed at Utah Beach on July 21st and 22nd.
The 603rd was committed to battle on July 28th, during the Cobra breakout, and advanced through Brittany to Brest and then Lorient in August. On August 6th, Al was wounded in the vicinity of Brest and he received the Purple Heart. The unit was mentioned in the Stars & Stripes newspaper for their capture of 406 Germans on the 11th. The operations of the Recon. Co. from Normandy to Brest are covered in a report by Al, written when he was a Captain as part of an Advanced Infantry Course after the war. You can read the report at the following link:
Recon. Co. 603rd Report – Normandy to Brest Aug. 1 to 12, 1944
The unit then raced east to the Moselle River sector in September and fought east of Nancy, France, in October, supporting the push to the Saar River in November. The unit battled to Sarreguemines, France, in December and shifted to Bastogne, Belguim to support the counterattack against the Bulge. They crossed the Our River and fought through the Siegfried Line in February, 1945, moving to the Seventh Army sector in March and reaching the Rhine River at Rhine-Durkheim, on March 21st.
They were reassigned to the Third Army and crossed the Rhine river at Oppenheim, Germany, on March 25th. They attacked through the Fulda Gap toward Erfurt in late March and April and then helped liberate the Buchenwald Concentration Camp on April 11th, finally reaching the advance limit line at Mittweida around April 15th. The 603rd received credit for the campaigns of Normandy, Northern France, Rhineland, Ardennes-Alsace and Central Europe. In addition to the Purple Heart, Al was awarded the Silver Star Medal as identified in the following citation:
"For gallantry in action in the vicinity of Plabennec, France on 7 August 1944. Under a steady artillery and mortar concentration, and trapped by burning vehicles, he rallied his command of one hundred men from advance guard units and went forward to reorganize positions
against the enemy." General Order 20 , Headquarters 6th Armored Division , 17 August 1944.
He also received the Bronze Star Medal, American Campaign, EAME, WWII Victory, National Defense and the Army Occupation Medals along with the French Croix de Guerre.
Al remained in the Army and was stationed in Garmisch-Partenkirchen, Germany, after the war, overseeing R & R Operations there. It was there that he met and would marry the former Elvira Monica Glogau on June 14, 1947. Elvira had been born in Klaipeda, Lithuania and was the daughter of August Ernst Glogau and Gertrud Meta Pleikes. The new couple would have three daughters, Allane, born in 1950, Suzanne in 1955, and Catherine in 1957. They also had a son, Patrick, in 1953.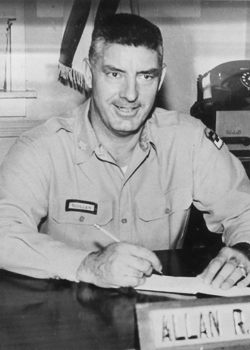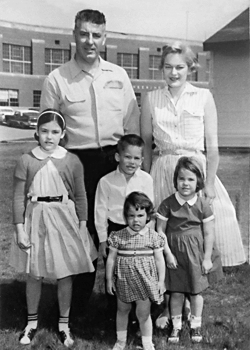 The family moved to the U.S. in 1948, and Al was assigned to Fort Benning, Georgia, and then to Fort Knox, Kentucky. From there, he was sent to the Philippines, Korea and Osaka, Japan. In 1955, he was sent back to Fort Knox, where he remained for 3 years before being ordered back to Germany with his family. While in Germany, he served at numerous locations including Wiesbaden, Darmstadt, Stuttgart, Frankfurt and Rhein Main where he was when he retired in 1963, at the rank of Major. He had continued his training throughout his career, including attending the Advance Infantry Course at Fort Benning, Georgia, the Advanced Armor Course at Fort Knox, the Air Ground Operations Course and the Special Weapons Course at the USA Armor School also at Fort Benning. In addition to his WWII decorations, he also received the Korean Service Medal and the U.S. Service Medal.
Although now technically a civilian, he stayed at the Rhein Main Air Base for the next two years as their Operations and Supply Manager. In August 1965, he and the family moved back to the U.S. and settled in San Fernando Valley, California.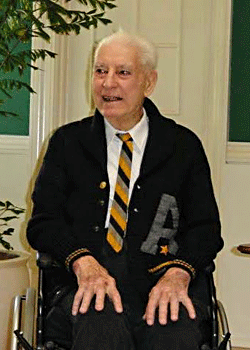 From 1965 to 1970, Al was Custodial Operations Manager at California State University, Northridge, and then from 1970 to 1993, he was an entrepreneur, specializing in retail sales of auto accessories & clothing (including Levis) at various Swap Meets in Los Angeles County. These sales developed into four family-run clothing stores called, Below-the-Belt.
In his spare time, Al enjoyed working in his community, monitoring the stock market, creating paper mountains of research and spending his weekends at swap meets. He also was active with his son Patrick's hydraulic services company. He was a member of the Los Angeles Committee on Aging and the Los Angeles Travel Advisory Board for Seniors. He stayed in contact with many of his West Point Classmates and spent much time on his computer doing research and reading. Al received numerous awards for his work in the community including Senior of the Year.
Al passed away on April 19, 2011, and was buried in the Columbarium at West Point, New York. His family remembers him as a devoted father, business owner, investor and mentor throughout his life. At the time of this tribute, Al's family had grown to include four grandchildren and ten great grandchildren. I want to thank the Scullen family for providing the information and photos for this tribute. Thank you also to Al's nephew, John Swanson, for making me aware of Al's service in the tank destroyers.