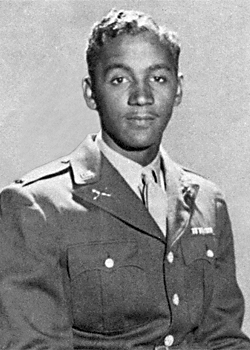 Christopher J. Sturkey
Biography: Christopher Julian Sturkey was born on August 6, 1918, in Detroit, Michigan. He was one of two sons and two daughters born to Wilmer Sturkey and Clara Belle Taylor. We have very little information on his early life but his draft card indicates he was employed at the Service Barber Shop, in Detroit, in October of 1940. His enlistment records shows he completed four years of high school and was employed in a semiskilled position manufacturing automobiles.
He married Blanche Sharpe McSwain on January 12, 1942, in Detroit. She was the daughter of George Sharpe and Theresa Powers. Their marriage license lists his employer as the Ford Motor Company and she was working as an elevator operator.
Service Time: Christopher entered the Army on January 20, 1942, at Fort Custer, Michigan. He completed his basic training at Camp Wolters, Texas and was then sent to Camp Carson, Colorado to become an officer for the 614th Tank Destroyer Battalion. He had acute appendicitis, requiring surgery, which delayed his entry to Officer Candidate School (OCS). By the time he had healed enough to be taken off light duty status, the class had moved on and he remained an enlisted man. He was soon assigned to Camp Hood, Texas where the unit trained in all aspects of tank destroyer unit skills. They went to the Louisiana Maneuvers and then returned to Camp Hood where they continued to act as school troops for the OCS classes.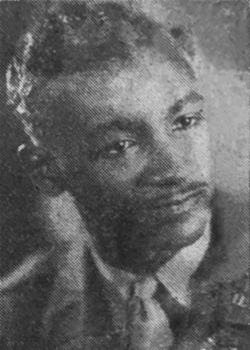 Finally, in August of 1944, they moved to Camp Shanks, New Jersey, where they prepared for overseas shipment. The unit shipped out from the New York port on August 27. 1944, and arrived in England on September 7th. A month later, on October 8th, they landed at the Utah beachhead and were initially deployed to Metz, France, later supporting operations against the Siegfried Line in November and December.
On November 22nd, the 1st platoon of Company C was moving into positions vacated by another TD unit. They came under heavy enemy fire and many of the men, this being their first taste of combat, abandoned their vehicles and sought cover. SSgt Sturkey rallied the men and brought them and their equipment through the fire without losing any personnel or equipment. He was awarded a Silver Star for his actions during this incident.
His citation reads as follows:
Second Lieutenant (then Staff Sergeant) CHRlSTOPHER J. STURKEY, 02000693, FA (TD), Tank Destroyer Battalion (Towed), for gallantry in action in Germany on 22 November 1944.
Lieutenant STURKEY was helping to direct the movement of 3 inch towed guns across terrain
which was heavily pounded by hostile artillery fire. When his comrades left their vehicles and
sought cover, Lieutenant STURKEY, perceiving that the valuable pieces of equipment must be
immediately moved if they were to escape total destruction, braved the bombardment and, by courageous example, encouraged the men to return to their vehicles and resume the march. By his action, he brought all weapons and men to safety without loss. Lieutenant STURKEY's gallantry and leadership reflect the highest credit upon himself and the Army. Entered Military Service from Michigan.
On December 7th, the 614th was attached to the 103rd Infantry Division, a pairing that would last until the end of the war. They were shifted to the Hagenau Forest area for a short period and then continued to support operations against Siegfried Line fortifications until late March, 1945. On February 15, 1945, Christopher was awarded a battlefield commission as a 2nd Lieutenant by 7th Army Commander, General Alexander M. Patch.
Letter to wife concerning promotion – January 10, 1945
The 614th performed occupation duties in early April and then joined the race to Innsbruck, Austria, and Brenner Pass. The unit received credit for the campaigns of Northern France, Rhineland, Ardennes-Alsace and Central Europe. The 3rd Platoon of Company C earned a Distinguished Unit Citation for their actions at Climbach, France on December 14th.
He was discharged from the Army on March 12, 1947, and returned home to Detroit and his wife. We have very little information on Christopher's life after he returned home but at some point, he was retired as a mail carrier and living in Guadalajara, Mexico. From 1997 through 2002 he was living in Las Vegas, Nevada. Christopher passed away on January 19, 2004, in Boulder City, NV.
The main photo of Lt. Sturkey was obtained from the book titled "The Invisible Soldier", compiled and edited by Mary Penick Motley (deceased). It was published by the Wayne State University Press, Detroit, 1975, and we thank them for the use of the photo.