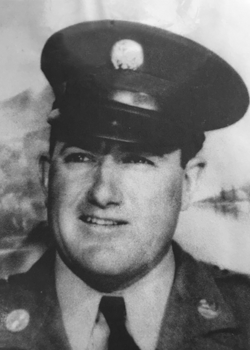 Thomas E. Swan
Biography: Thomas Edward Swan, "Ed", was born on November 10, 1912, in Claremore, Oklahoma. He was one of two sons and five daughters born to Charles Edna Swan and Lillie Belle Bannister. He completed one year at Claremore High School.
The 1940 census shows he was living with his sister Pauline and her husband, Ogden Cox, in Tulia, Swisher, Texas. They all worked at a wholesale creamery and Ed was employed as a butter maker.
Service Time: Ed entered the Army in 1940 and was sent to Fort Bliss, Texas. He eventually became a member of Headquarters Battery, 49th Field Artillery Battalion, a part of the 7th Infantry Division Anti-tank Battalion. On December 15, 1941, this unit became the 607th Tank Destroyer Battalion and Ed was transferred as a Corporal to the new unit on the same date. On January 1, 1942, he was transferred to Company A. He trained with the unit at several locations including Camp San Luis Obispo, Hunter Liggett Military Reservation, and the Desert Training Center, all in California, along with Camp Hood, Texas and Camp Cooke, CA. While they originally trained with M10 self-propelled tank destroyers, the unit was converted to a towed battalion, utilizing the M5 3" anti-tank gun, on December 15, 1943.
Arriving at Liverpool, England, on April 21, 1944, they continued training. Company A landed at Utah Beach, Normandy, France on June 17th and the 607th supported the advance on Cherbourg.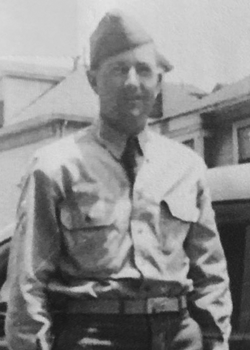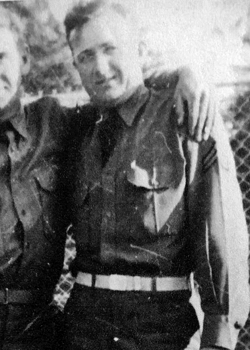 On July 6th, Corporal Swan was killed in action at Vindefontaine, France. Another man was lightly wounded in action the same date/location. Unit records have no information as to what happened or if the two men were together at the time. He earned the American Defense Service, Good Conduct and EAME medals with credit for the campaign of Normandy. He was posthumously awarded the Purple Heart Medal.
Corporal Swan was temporarily buried in an American Cemetery in France. In 1948, he was disinterred and reburied with full military honors at the Woodlawn Cemetery, Claremore, Oklahoma. We would like to thank Corporal Thomas Edward Swan for making the ultimate sacrifice for his country. Thank you to his grandniece, Cheryl Brasier Askew, for providing photos and information used in this tribute. Thank you to Find a Grave contributor Dennis Wilson for use of the grave marker photo.