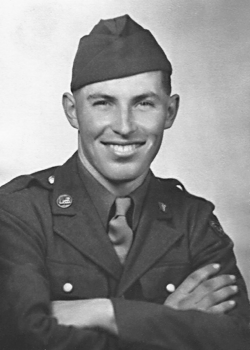 Ezra J. Seibel
Biography: Ezra Joseph Seibel was born on August 19, 1921, in Montgomery, Hamilton, Ohio. He was one of 13 children born to Ezra Seibel and Ruby Irene Duke and attended Pleasant Hill High School. Although his enlistment record says he only completed 10th grade, a newspaper article states that he graduated from the school.
He then worked as a farm hand, and as identified on his enlistment record, also worked with animals and livestock.
Service Time: Ezra entered the service on December 28, 1942, at Columbus, Ohio. After his basic training, he would have received additional training as a medic and was finally assigned to the medical detachment of the 811th Tank Destroyer Battalion.
The unit shipped out from the Boston port on September 5, 1944, and arrived at Cherbourg, France, on September 15th. They were equipped with M18 tank destroyers and moved to Luxembourg in November, participating in the Battle of the Bulge in December.
Beginning on December 17th, the 811th was under both artillery and mortar fire. Pvt. Seibel individually went to the aid of his wounded comrades to provide them with medical aid. During the period, Ezra was hit in the leg, tearing his calf away and rendering him unable to provide aid. He was the most seriously injured of all the men but he refused to be evacuated and continued to help by instructing an officer in treating a great many wounded soldiers. He also refused morphine so that others could receive it instead and only after all men were treated, did he allow them to take him to the aid station. For his courage and determination during the period of the 17th through the 21st, Ezra was awarded the Silver Star for gallantry. He would also receive the Purple Heart in recognition of his wounds. Documentation for the Purple Heart says that his injuries happened to the vicinity of Gulhausen, Belgium, on the 21st.
Ezra was soon evacuated from the aid station and taken to a hospital in England for further medical treatment and recuperation. The 811th continued in the fight and received credit for three campaigns including Rhineland, Ardennes-Alsace and Central Europe. Ezra was shipped home and discharged on July 3, 1945, at the rank of Private.
Now back in the U.S., Erza and his brother would purchase a farm and make a living as a farmer in Preble County, OH. He would eventually start breeding specialty cattle and later work as a truck driver. Ezra passed away on March 11, 1976, and was buried in the Warner Cemetery in Englewood, OH.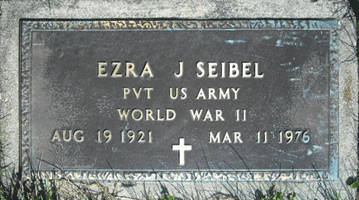 I want to thank Ezra's nephew, Raymond, for providing the information and main photo for this tribute. I also want to thank Find A Grave contributor Lulabell for the use of the grave marker image.
In addition to Ezra's service, his brother Merlin also served in the infantry during WWII.