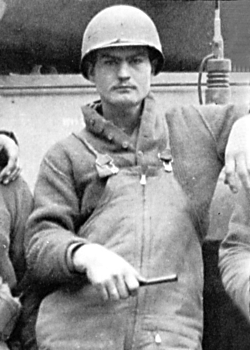 Buel C. Sheridan, Jr.
Biography: Buel Champ Sheridan, Jr. was born on October 12, 1922 in Sheridan, Colorado County, Texas. He was one of four sons and four daughters born to Buel Champ Sheridan Sr. and Bertha B. Briscoe. He attended local schools through the seventh grade.
Service Time: Buel entered the Army and was eventually assigned to Company C of the 823rd Tank Destroyer Battalion. The 823rd trained at a number of military bases including Camps Bowie and Hood, Texas, and Camp Claiborne, Louisiana, where they were located prior to participating in the Louisiana maneuvers.
The unit boarded trains on March 9, 1944. enroute to Camp Myles Standish, and the Boston port, where they arrived on the 12th to begin their final preparations for the trip overseas. On April 6th, they loaded the U.S.S. Sea Porpoise and sailed for England, arriving in Newport, Wales, on the 17th after an uneventful trip.
After some additional training and a delay, they boarded three LSTs and landed on Omaha Beach, Normandy, France, on June 24, 1944. They were equipped with 3″ towed anti-tank guns and went into action within 24 hours of their arrival. Supporting the drive on St. Lô, they fought at Mortain in August and passed through Belgium and Holland, entering Germany on September 17th.
Fighting along the Siegfried Line in October, which included the encirclement of Aachen, the 823rd converted to M10 tank destroyers beginning in November, and shifted to the Ardennes in late December, fighting to eliminate the Bulge in January, 1945.
On December 18th, Company C guns were in place to the north and east of Stavelot, Belgium. During the ensuing actions, Company C continued eliminating German troops, and destroying their equipment, and the M10 crew that Buel was part of was credited with destroying four Panzer VI "King Tiger" tanks, belonging to s PzAbt. 501, at or around Stavelot.
They crossed the Roer River on February 24th and the Rhine River on March 24th. The unit raced eastward to the Elbe River, at Magdeburg, in April and finally began military occupation duties on April 21st. The 823rd received credit for the campaigns of Normandy, Northern France, Rhineland, Ardennes-Alsace and Central Europe. Buel was awarded a Silver Star along with a Purple Heart medal with Oak Leaf Cluster for wounds received. He was also awarded the WWII Victory, EAME and the Occupation of Germany medals. He was discharged on October 31, 1945.
We have very little information on Buel after he returned home. In 1957 he was working as a roughneck, probably in the oil drilling industry. Tragically, in mid-December, he was involved in a bad auto accident and died of his injuries six days later on December 22, 1957. Buel was buried in the Sheridan Cemetery, Sheridan, Texas. Thank you to Find-a-Grave contributor James for use of the grave marker photo.