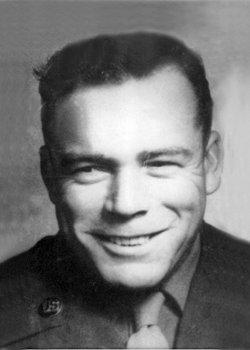 Ralph C. Stith
Biography: Ralph Claude Stith was born on May 24, 1921, in Big Heart, Oklahoma. He was the son of Amos Ralph Stith and Sarah Caroline Rissel and attended local schools through the grammar level.
He then worked as a farm hand as indicated by his enlistment record.
Service Time: Ralph entered the service on January 13, 1942, at Oklahoma City, OK. After his basic training, he was assigned to Company C of the 603rd Tank Destroyer Battalion, which trained at a number of facilities including Fort Ord, California, Camp Pickett, Virginia and Camp Hood, Texas. The unit took part in the Louisiana Maneuvers and spent some time at Camp Shelby, Mississippi, and Camp Maxey, Texas before moving to Camp Kilmer, New Jersey for final preparations before shipping overseas. In October of 1943, the unit had been issued T70's (M18 tank destroyers) and was able to train with them while still in the U.S.
The 603rd shipped out from the New York port on April 11, 1944, aboard the Queen Mary. They arrived at Cannock, England, on the 18th and after some additional training and preparations, they boarded transports and landed at Utah Beach on July 21st and 22nd. Only a few days later on the 28th, they were committed to battle during the Cobra breakout. Advancing through Brittany to Brest and then Lorient in August, they raced east to the Moselle River sector in September, fighting east of Nancy, France, in October and supporting the push to the Saar River in November.
They battled to Sarreguemines in December and were later shifted to the Bastogne area to support the counterattack against the Bulge. It was on January 16, 1945, that then TD Commander, Sgt. Stith and his task force were under a heavy concentration of mortar and small arms fire. He quickly realized that medical personnel were unable to reach wounded men 200 yards away. He then ordered the crew of his destroyer, nicknamed "Corncob", to cover him while he made his way to the men. he then crawled back with them one at a time until they were all able to receive treatment. Throughout the action, he was under heavy enemy fire. For his gallantry and utter disregard for his own life and in order to save his comrades, Sgt. Ralph C. Stith was awarded the Silver Star. Other members of his crew included Cpl. Victor Zelkis from Chicago, Illinois, Cpl. Gervas Caster from Elgin, OK, T5 Walter Johnson of Astor, Iowa and Herman Reese of Orange, New Jersey.
The unit would go on to cross the Our River and fight through the Siegfried Line in February, 1945. They then moved to the Seventh Army sector in March, and reached the Rhine River at Rhine-Durkheim on March 21st. The 603rd was reassigned to the Third Army, crossing the Rhine at Oppenheim on the 25th and attacked through the Fulda Gap toward Erfurt in late March and April. They helped liberate Buchenwald on April 11th and reached the advance limit line at Mittweida about April 15th. The 603rd received credit for campaigns of Normandy, Northern France, Rhineland, Ardennes-Alsace and Central Europe. Ralph left the service at the rank of Sergeant.
On another occasion, Stith and his Corncob crew were directed by a "Major" to fire at a target about 2600 yards away, which was holding up the progress of the troops. The Major considered it an enemy strongpoint that needed to be destroyed. Even after Stith had taken a look through his binoculars and suggested that it might be some type of machinery, he was ordered to destroy it. He ordered the crew to aim and fire, hitting the target and launching it up into the air. The crew could now add one farmer's plow to their list of enemy equipment destroyed. You can read the entire story in the article listed below.
Once back in the U.S., he went to work as a carpenter, and was a member of the Carpenter's Union. Within a year or two of the war's end, he married the former Valda Sylvester Horton, who was born in Hollis, OK and was the daughter of David Franklin Horton and Lilli Dell Smith. Valda had three children from her previous marriage, a son Benny, and two daughters, Gilda and Nathalene. Ralph raised the children as his own and was a tolerant and loving father to them all.
The family would initially make their home in Concord, California and then later in Martinez. After his retirement, they moved to Riverbank. In his spare time, Ralph enjoyed gardening and doing the occasional carpentry project which included designing and building a home for Benny and his family. Ralph and Valda were also avid bowlers and competed on teams and tournaments over the years. Ralph loved card games, which he continued to enjoy with his grandchildren. After his retirement, Ralph was able to travel to various areas of the country to indulge his love of fishing.
Ralph passed away on January 23, 1991, and was buried in the Lakewood Memorial Park in Hughson, CA. I want to thank Ralph's granddaughter, April Lewis, for providing the information and photo of her grandfather.