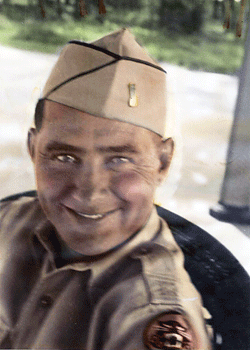 Jack E. Stege
Biography: Jack Edward Stege was born on December 29, 1911, in Oklahoma City, Oklahoma. He was the son of Harry E. Stege and Dora Gaunce and graduated from Tulsa High School in Tulsa, OK.
Growing up during the depression, Jack worked at a number of different jobs, including the CCC (Civilian Conservation Corps), which provided work relief jobs consisting mainly of conservation and development of natural resource projects in rural lands owned by federal, state, and local governments.
Jack also worked driving a truck, did photography, raised pigs, worked on an auto assembly line and finally as a zoo keeper, which he did mainly at the Griffith Park Zoo in Los Angeles, California. He truly enjoyed the work at the zoo and wanted to make it his career until the war started.
Service Time: Jack entered the service on March 14, 1941, at Los Angeles, CA. It was during his early training that he was picked for OCS (Officer Candidate School) and sent to Camp Hood, Texas, where he graduated on August 13, 1942, as a Second Lieutenant, with Class No. 5. He was then assigned as training officer to the cadre which formed the 610th Tank Destroyer Battalion, stationed at Camp Bowie and Camp Hood, TX.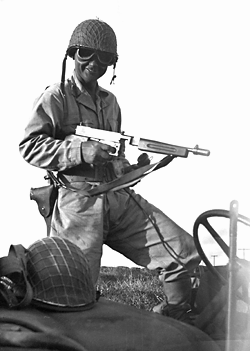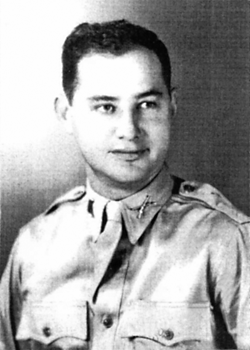 He remained in that position until April of 1943, when he was sent to the Pacific as a replacement officer. He arrived in Hawaii on May 24, 1943, and was assigned to the Reconnaissance Company of the 627th Tank Destroyer Battalion but within three months, he was reassigned to Company C, on August 25th. The unit was stationed near one of the island's volcanos and performed their gunnery practice in the Kau Desert. They were also assigned to coast watch duty at Black Sands Beach and in the vicinity of Pahoa.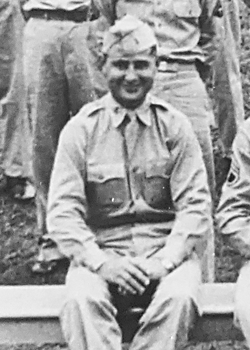 In February of 1944, the 627th moved to the Island of Oahu and Lt. Stege took command of a platoon of M10 Tank Destroyers. Later that year, on December 2nd, Jack was promoted to 1st Lt. and while stationed at the Schofield Barracks, he and five other officers from the unit were sent to gunnery school back at Camp Hood. By the time he returned to Hawaii, in April of 1945, the unit had been disbanded and the men sent to other units.
The photo on left was taken at Hilo, Hawaii, in 1943. The full photo of Jack and his Recon. Platoon can be seen on the Unit Page for the 627th.
Jack was transferred to the 4583rd Quartermaster Service Company, where he remained until he was discharged at Fort MacArthur, CA, on January 20, 1946. He left the service at the rank of Captain.
He began working at a welding supply company in Los Angeles. Soon after answering an ad for jobs in Alaska, he married the former Irma Angeline Jarnagin in March. He had met Irma while he was in Texas and in Officer Candidate School. She had been born in Jack County, TX, and was the daughter of William T. Jarnagin and Emma Wilson. Irma was also a veteran, serving as a Navy WAVE (Women Accepted for Volunteer Emergency Service).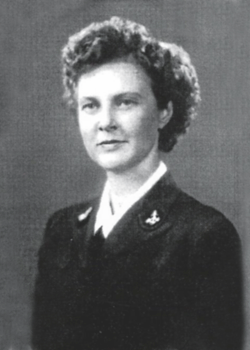 The new couple moved to Alaska with Jack first working as a warehouseman and then as a civilian employee of the US Army Corps of Engineers. He worked for the Corps in construction on the Distant Early Warning System (DEW Line) across northern Alaska and later in various western states for the Corps while building ballistic missile silos during the cold war. He retired in 1972, as a project engineer, but remained active in the private construction industry for a few years.
Jack and Irma had a daughter. Jeanne. born in 1952, a son John in 1954, and a daughter Susan in 1956. In his spare time, he enjoyed hunting, fishing, carpentry and photography. He was also a member of the Benevolent Protective Order of Elks and in his later years, the National Association of Retired Federal Employees. Jack passed away on February 14, 2001, and was buried in the Willamette National (veterans) Cemetery, in Happy Valley, Oregon.
We would like to thank Jack's son, John, for providing the photos and information used in this tribute.