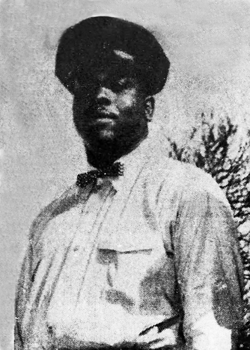 Joel Scott
Biography: Joel Scott was born on February 9, 1919, in Falls County, Texas. He was one of four sons and five daughters born to Eugene Scott and Selina Holmes. His draft card shows he was employed at Methodist Hospital in Dallas, Texas, in October of 1940 and his enlistment record indicates he completed one year of high school and his civilian occupation was "Porters".
On November 7, 1943, he married the former Edna Ray Campbell who was born in McLennen County, TX. She was the daughter of Herbert Campbell and Paralee Washington. The couple had one son.
Service Time: Joel entered the Army on January 12, 1942 at Camp Wolters, TX. He was eventually assigned to the 679th Tank Destroyer Battalion. The 679th was activated on June 12, 1943 at Camp Hood, Texas. On July 14th of the same year, the unit was converted to a towed 3" anti-tank gun battalion.
They shipped overseas on January 10, 1945, aboard the USS Monticello, disembarking at La Havre, France on the 21st. They re-embarked on March 1 at Marseilles, France, for transfer to Italy. Landing in Leghorn, they were attached to the 92nd Infantry Division. The 679th moved to the front line near Torre Del Largo, Italy, on March 17th, firing their first rounds the next day. They supported the assault on La Spezia in April and advanced to Genoa by early May. Joel was awarded the Good Conduct, American Campaign, EAME, with credit for the North Apennines and Po campaigns, and the WWII Victory medals. He left the Army sometime in 1946 when the 679th was de-activated. We believe he left the service at the rank of Sergeant.
Joel returned to the U.S. and by 1947, he was working as a Porter at First Federal Savings & Loan in Austin, Texas. We currently have no additional information on Joel's life after he returned home. He passed away on January 19, 1994, and was buried in the Cook-Walden Capitol Parks Cemetery and Mausoleum, Pflugerville, Travis County, Texas. Thank you to Find A Grave contributor Brenda J. Rogers for use of the grave marker photo.