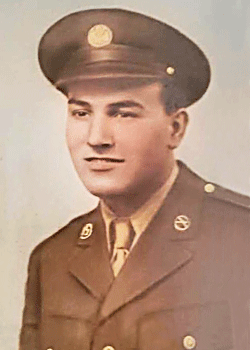 Joseph J. Sicignano
Biography: Joseph John Sicignano was born on July 25, 1922, in Brooklyn, New York. He was the son of Carmine Sicignano and Francesca Casano and attended PS 54 and then graduated from Alexander Hamilton High School in Brooklyn.
His registration card indicates he was working for the Moriarty-Johnson Company, which we believe to have been a leather manufacturing business as indicated on Joseph's enlistment record.
Service Time: Joseph entered the service on November 7, 1942, at New York City. After his basic training, he was assigned to the 774th Tank Destroyer Battalion. The unit trained at multiple locations within the U.S. While stationed at Camp Gordon in Georgia, the unit was converted from self-propelled M10 tank destroyers to 3″ towed guns which required re-training with the new weapons.
They moved north and ended up at Camp Shanks, New York, followed by a move to Fort Dix, New Jersey and then Camp Kilmer, NJ, for final preparations for shipment overseas. They boarded the Nieuw Amsterdam and sailed from the New York port on June 3, 1944, arriving at Gourock, Scotland, on June 12, 1944.
The 774th debarked at Utah Beach on August 7th and joined fighting around Argentan, France. Moving eastward across France, to Lorraine, as part of a cavalry screen with the 7th Armored Division, they participated in fighting around Metz starting in September.
On October 12th, the unit was supporting operations against Fort Driant, which was part of the Battle of Metz, during the Lorraine Campaign. The Fort is located five miles east of Metz and just west of the Moselle River. Company A was providing harassing fire on targets identified by the 5th Infantry Division Artillery.
The company was hit by enemy artillery and suffered three casualties. The unit history identifies that Cpl. Joseph Sicignano crawled across the shell-torn terrain, from a position of relative safety, to first obtain a first aid kit and then crossed additional terrain to reach the men and administer aid. While he was administering aid, he was hit by a shell fragment and killed. In addition to Joseph, three other men, Pfc. Otto C. Moslacher, Pvt. Walter J Sibigtroth and T5 Stanley J. Wszolek were killed that same day.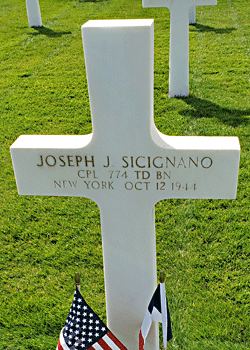 Joseph was buried in a temporary grave and later reinterred in the Lorraine American Cemetery in Saint-Avold, France, Plot C, Row 14 and Grave 76. He was posthumously awarded the Silver Star and the Purple Heart.
I want to thank Joseph's niece, Jo Ann, for providing the information and photo used in this tribute.