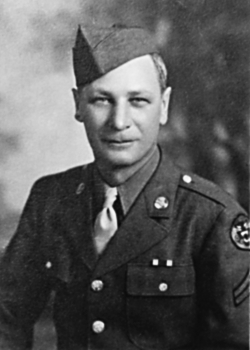 Ernest E. Simmons
Biography: Ernest Edwin Simmons "Ernie" was born on September 15, 1905, in Agenda, Wisconsin. He was the son of Wilford W. Simmons and Ida May Chapman and graduated from Spencer High School around 1922. He worked initially as a paid farm hand but went back to school, attending Wausau Business College in Wausau, WI, graduating in 1926. He then worked as a parts clerk for Northern Auto Supply but also did basic engine machining at the company.
On January 15, 1933, Ernie married the former Ethel Evelyn Hermanson, who was born in Lincoln County, WI, and was the daughter of Charles Julius Hermanson and Lena Caroline Kalepp. The new couple would initially make their home in Marshfield, WI, and have a daughter, Janet, in 1936, and another daughter Jeanne in 1939.
Ernie joined the Wisconsin National Guard on December 21, 1923, and was assigned to the Headquarters Company, 1st Battalion of the 127th Infantry Regiment. He served with the unit until October 9, 1924, when he was honorably discharged at the rank of Private with an "Excellent" character rating.
Service Time: Ernie entered active duty on August 31, 1942. He was almost 37 years old when he left his family to serve and was one of the older enlisted men in the military. He was affectionately called "Pops" by his fellow soldiers. After his basic training, was assigned to Company A of the 692nd Tank Destroyer Battalion and trained with them at a number of military facilities within the U.S., including Camps Bowie and Hood in Texas, Camp Phillips, Kansas, and Camp Campbell, Kentucky. They also took part in the Tennessee Maneuvers. The 692nd was initially designated as a self-propelled battalion, but in March of 1944, they converted to a towed battalion, utilizing 3″ anti-tank guns. They proceeded to Camp Kilmer, New Jersey on August 25, 1944, where they made final preparations before heading overseas.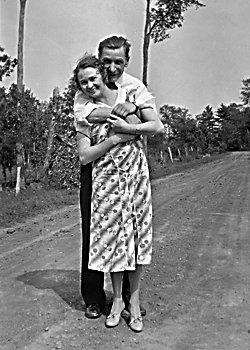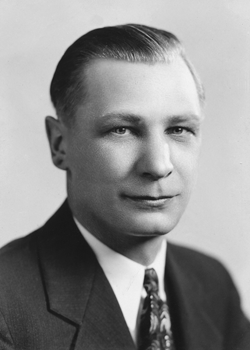 On the left is a photo of Ernie and Ethel around 1934. At right is Ernie in 1939.
While stationed at Camp Hood, Ernie was sent to radio and electricians school for 8 weeks but during the majority of his service-time he served as an anti-tank crewman and gunner. Additionally, he qualified as a Marksman with the .30 cal. carbine.
The unit shipped out from the New York port on September 12th, 1944, aboard the HMS Scythia and arrived in England on the 22nd. The next day they departed for France, arriving at Cherbourg on the 23rd, but didn't disembark until the 25th. They entered the line near Wustwezel, Belgium, about October 28th and fought along the Siegfried Line, in the vicinity of Stolberg, beginning in November. They occupied defensive positions along the Roer River during the Battle of the Bulge and converted to the M36 tank destroyer in February 1945, supporting the drive from the Roer to the Rhine River in late February and early March, and helping capture Cologne. On February 15th, while in Germany, Ernie was injured and received the Purple Heart in recognition of his wounds.
Ernie was able to return to duty and after clearing more Siegfried Line fortifications, they crossed the Rhine at Worms on March 31st. The unit raced across Germany in April and participated in the capture of Furth. On April 4th, while in the vicinity of Wurzburg, Germany, he and his crew came under attack by the enemy. Ernie skillfully directed his men to repel the attack and ultimately saved his vehicle and the men. For his actions, Ernie was awarded the Bronze Star. The 692nd continued their advance and arrived in Munich by April 30th.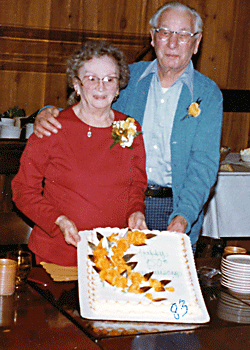 Ernie received credit for the campaigns of the Rhineland, the Ardennes-Alsace and Central Europe. In addition to the Bronze Star and Purple Heart, he received the Good Conduct medal and the European-African-Middle Eastern Campaign ribbon. He left the service on September 14, 1945, at Camp McCoy, WI, at the rank of Corporal.
Ernie returned home to his family and his job with Northern Auto Supply. He would later become a manager there. The family would welcome a son, Charles, in 1947. In his spare time, Ernie enjoyed watching sports, fly fishing and hunting. They moved to Park Falls in 1955, and after he retired in 1973, they moved to Adams, WI. Ernie passed away on December 2, 1985, and was buried in the Evergreen Cemetery II, in Medford, WI. He is remembered as a quiet man that loved his country and his family.
I want to thank Ernie's granddaughter, Debra, for providing the information and photos used in this tribute.