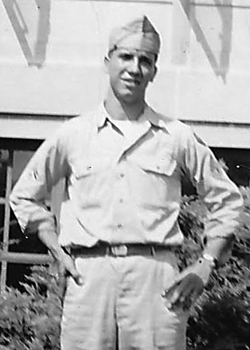 Donald E. Stombaugh
Biography: Donald Eugene Stombaugh was born on February 29, 1924, in Goodland, Indiana. He was one of nine children, three sons and six daughters, born to Fremont Leonard Stombaugh and Mary Leona Ellsworth. He attended Goodland High School where he played on the basketball team and graduated in 1943.
Service Time: Donald enlisted in the Army on March 31, 1943, at Indianapolis, IN, while still in school. After his graduation, he entered active service and was sent for basic training. He was then assigned to Company A of the 772nd Tank Destroyer Battalion and trained with them at military facilities within the U.S.
The battalion was activated on December 16, 1941, at Fort Leonard Wood, Missouri, as a Heavy Self-Propelled unit but during their training, they were converted to a towed battalion, utilizing 3-inch guns. They shipped from the New York port on September 29, 1944, aboard the ship H.M.T. Arawa, arriving in the Fyrth of Clyde, Scotland, on October 10th and then traveling by rail to southern England.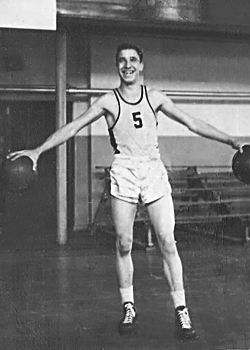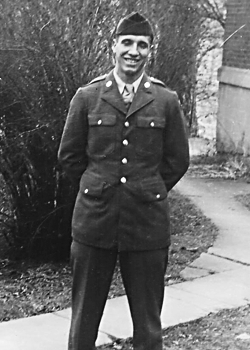 In the photo below, you can see Donald standing with his M36. The logs were attached to the front for added protection against enemy fire.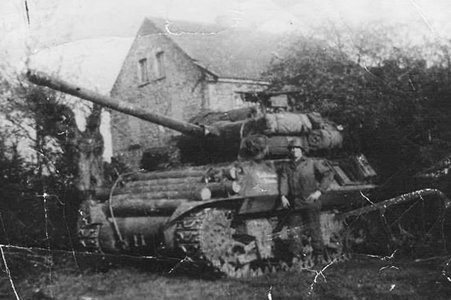 After another two months of additional training and final preparations, the 772nd boarded LST transports and landed in Le Harve, France, on December 20th. They entered the line near Birgel, Germany, on December 22nd, and fought in Belgium in January, 1945. They then shifted south to the Seventh Army's sector along the Rhine in February and began converting to the M36 tank destroyer, beginning in late March. The 772nd supported operations against the Ruhr Pocket in April and then took on military government duties.
At some point, Donald was wounded and received the Purple Heart medal in recognition of those wounds. He was warded the EAME Ribbon with credit for each of the unit's three campaigns, Rhineland, Ardennes-Alsace and Central Europe. He left the service at the rank of Private.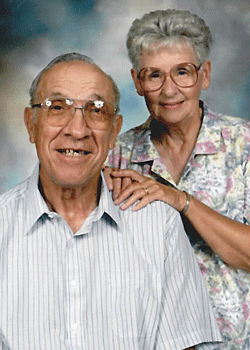 Donald returned home to Indiana and eventually made his home in Rensselaer. On May 23, 1946, he married the former Esther Juanita Latta, who was born in Shelby, IN, and was the daughter of Jesse Elmer Latta and Harriet Belle Strader. The new couple would have four sons and one daughter. Donald worked in the trucking industry for West Shore Trucking and Roadway Truckline. In his spare time, he enjoyed gardening and was a member of the American Legion.
Donald passed away on June 30, 1999, and was buried in the Mount Calvary Cemetery in Goodland, IN. I want to thank Donald's granddaughter, Kristi, for providing the information and photos used in this tribute. Thank you also to Find A Grave contributor, Ronald Hall, for the use of the grave marker photo.