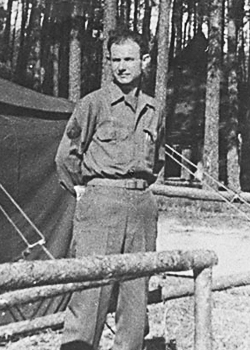 Joseph H. Spallino, Jr.
Biography: Joseph Henry Spallino Jr., "Joe", was born on July 20, 1915, in Los Angeles, California. He was the son of Alessandro Spallino and Josephine Carlina and graduated from local schools. He then went to work doing shoe repair and by the 1940 census, he is listed as the propietor of a shoe repair business.
Prior to 1940, Joe married the former Doris Eva Skocdopole who was born in Butler, Oklahoma, and was the daughter of William Henry Skocdopole and Ora Etta Crum.
Service Time: Joe enlisted in the Army on January 7, 1943, at Los Angeles, CA. After his basic training, he was eventually assigned to Headquarters Company of the 823rd Tank Destroyer Battalion. While serving with the unit, he functioned as one of the their radiomen and would have trained at various facilities within the U.S.
The unit shipped out from the Boston port on April 6, 1944, arriving in England on April 17th. After two months of additional training and preparations, they boarded transports and landed at Omaha Beach in Normandy, France, on June 24th. They were equipped with towed 3-inch guns and supported the drive on St. Lô, fighting at Mortain in August.
The 823rd passed through Belgium and Holland, entering Germany on September 17th, and fought along the Siegfried Line in October, including the encirclement of Aachen. They then converted to self-propelled M10 tank destroyers beginning in November. Joe's responsibility was to keep the various companies in constant communication with Headquarters. In an article written by freelance writer and fellow veteran, Stephen Furimsky, Joe recalled fighting in five campaigns and crossing France and Germany, mostly on foot while digging scores of foxholes to keep his body from being ventilated by enemy bullets and shrapnel.
In late December 1944, the unit was shifted into the Ardennes and Malmedy became an area of heavy fighting during the Ardennes Offensive. The 823rd continue to fight to eliminate the Bulge in January 1945, and then crossed the Roer River on February 24th and then the Rhine River on March 24th. Racing eastward to the Elbe River at Magdeburg in April, they began military occupation duties on April 21st.
Joe received credit for each of the unit's campaigns of Normandy, Northern France, Rhineland, Ardennes-Alsace and Central Europe. He also received the Bronze Star Medal, European-African-Middle Eastern Campaign Ribbon, American Campaign Ribbon and the Good Conduct Medal. He left the service at the rank of Private First Class on October 30, 1945.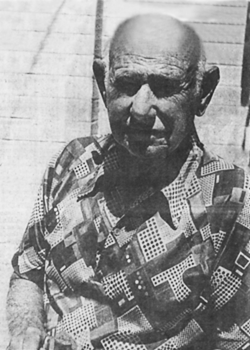 We have only limited information regarding Joe's life after the war but he did return to California, living in the Fallbrook area at some point. Joe and Doris would have two children, a daughter Doris born right after the war and a son Joseph Jr., born in 1948. Joe continued his work as a shoe repairman. In his spare time, he enjoyed geology and paleontology, which translates into rock and fossil hunting. His collecting efforts centered around the Bakersfield area of California and he was part of a rock hunting club as well. He was also a member of the Veterans of Foreign War, Post 1924, of Fallbrook.
We believe Joe and Doris' relationship ended and Joe married again to the former Teresa A. Moreno on January 14, 1967, in Los Angeles. Their marriage would end just over a year later in February 1968. Joe may have married a third time since an article about him from 1989, states that he had been a widower for approximately a year.
Joe passed away on August 20, 1991, and was buried in the Fort Rosecrans National Cemetery in San Diego, CA. Thank you to Find A Grave contributor, Jon Verdick, for the use of the grave marker image.