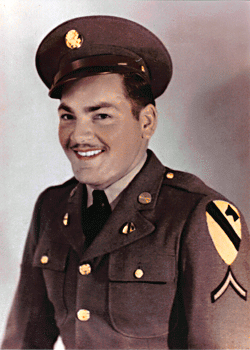 Daniel M. Sciulli
Biography: Daniel M. Sciulli "Dan" was born on April 28, 1919, in Republic, Pennsylvania. He was the son of Donato Sciulli and Antoinette Silvestre and attended Lorain High School through the 10th grade.
His military documents list his civilian occupation as coaling rock operator but he is known to have worked as a laborer for the National Tube Company.
Service Time: Dan was drafted and entered the service on March 13, 1941, at Cleveland, OH. He was sent to Fort Riley, Kansas where he would take his basic training and was assigned to the 1st Cavalry Division. He served in their anti-tank troop, training with them with various equipment including the 37mm anti-tank gun. He qualified as an expert with both the M1 Garand and Springfield rifles.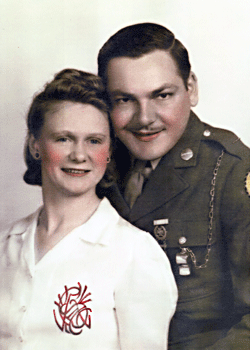 On November 6, 1941, while on leave from the unit, Dan married the former Esther Lee, who was born in Elyria, OH, and was the daughter of Reginald Lee and Vallie Telzerow. The new couple would make their home in Lorain.
On December 15, 1941, the 691st Tank Destroyer battalion was activated by order of the 1st Calvary Division, Fort Bliss, Texas. Personnel from both the 1st and 2nd Cavalry anti-tank troops were used to start the unit. Dan would prove himself as a leader and serve in Company A of the 691st, as a gun commander of a 3 inch towed-gun crew. They began their training at the camp and on February 1, 1942, Dan was promoted to the rank of Technician Grade 5.
Promotion to Technician 5th Grade
The unit would move to Louisiana in July 1942, for two months of maneuvers. They trained at additional facilities including Camp Hood and Camp Bowie in Texas, before moving back to Louisiana and Camp Claiborne and more maneuvers in May of 1943. He was tested and qualified as an expert on each of the following weapons, Thompson sub-machine gun, 30 cal. carbine, and both the .30 and .50 caliber machine guns.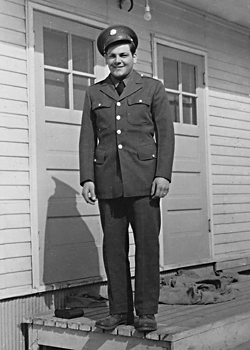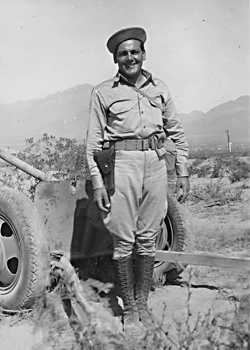 The photo on the left shows Dan while stationed at Fort Riley, Kansas. On the right, Dan is training with a 37mm anti-tank gun at Fort Bliss, Texas, which is just outside El Paso and close to the Mexico border. It is also very near New Mexico where the unit did some of their training.
The unit shipped to Liverpool, England, on July 26, 1944, from the Boston port. They arrived in England on August 1, 1944, and then moved to Llangottock, Wales. They quickly prepared and shipped out arriving at Utah Beach in France on August 27th. Seeing action in Lorraine in September, they were then transferred to the Ardennes in December.
Moving south, the 691st joined operations in the Saar region in February and March of 1945. Originally a towed battalion, they converted to the M36 tank destroyer in late March, with Dan and his crew serving in third platoon as they moved across Germany, reaching Limbach in April.
It was during the period of March 25th through April 14th that Dan and his crew had mechanical trouble with their new tank destroyer and broke down in the vicinity of Hersfeld, Germany. The rest of the unit had to continue moving forward and were at such a fast pace that they were not able to assist the disabled unit. Along with the 15 infantrymen that had been riding on his TD, Dan assumed control of the town and organized repair and clean-up crews using civilians from the area to clear away roadblocks and repair damaged roads, restoring the road system. His citation makes note of the very high degree of discipline he showed during the period. For his actions he was awarded the Bronze Star Medal.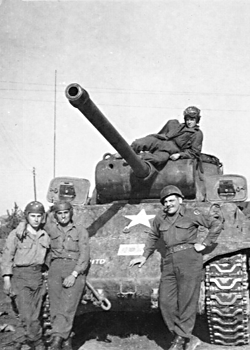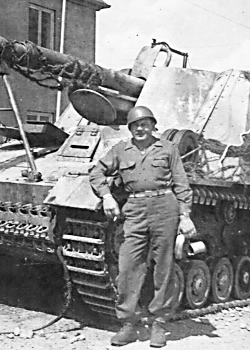 The photo on the left shows Dan with his crew. On the right, Dan poses with a captured German Panzerjäger (tank hunter) self-propelled, heavy anti-tank gun named the Nashorn or "rhinoceros", which featured an 88mm gun.
Dan received credit for campaigns in Northern France, Rhineland, the Ardennes and Central Europe and in addition to the Bronze Star medal, he was also awarded the American Defense, American Theater Service, the EAME Medal (w/four campaign stars), the WWII Victory and the Good Conduct Medals.
Dan shipped home on November 13th, arriving back in the U.S. on the 25th. He was discharged four days later on the 29th from the Indiantown Gap Military Reservation in Pennsylvania. He left the service at the rank of Sergeant.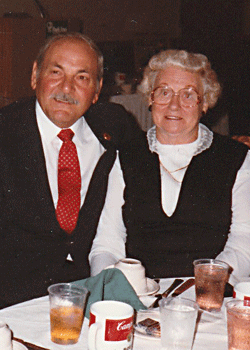 After returning home to Lorain and his wife Esther, he found work with the town of Lorain as a heavy equipment operator. He and Esther would have five children, Mark in 1952, Nadine in 1953, Donna in 1954, Anthony (Tony) in 1957 and Karen in 1959. In his spare time, Dan enjoyed outdoor activities including gardening, fishing and camping. He also did woodworking projects.
Dan passed away on August 26, 1997, and was buried in the Calvary Cemetery in Lorain, OH. I want to thank Dan's son, Tony, for providing the information and photos used in this tribute.