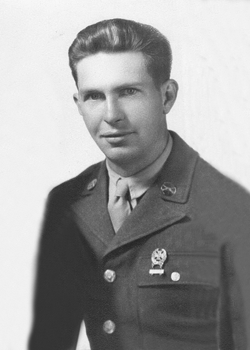 Friend E. Shonts
Biography: Friend Elmer Shonts was born on February 26, 1915, in Grand Valley, Pennsylvania. He was one of five sons born to Elmer James Shonts and Anna Wilson. He graduated Spartansburg High School and on April 30, 1937, he married the former Hazel May Henton, who was from Spartansburg. She was the daughter of Paul Miles Henton and Gladys May Reagle. The couple had two daughters, Sarah, in 1938 and Barbara in 1941. In 1940, he was employed in the oil fields by the Bingham Oil Corporation. His enlistment record indicates his occupation as "Semiskilled engineers, stationary".
Service Time: Friend entered the Army on July 19, 1943, in Erie, PA. Eventually, he was assigned to Company B, 702nd Tank Destroyer Battalion. The unit trained at a number of military facilities throughout the U.S. including Fort Benning, Georgia, Fort Bragg, North Carolina, Camp Hood, Texas, Camp Gruber, Oklahoma, Camp Myles Standish and Fort Devens, Massachusetts. They also took part in the Louisiana Maneuvers.
The 702nd was equipped with M18 tank destroyers before shipping out, which they did on February 14, 1944, from the Boston port. The battalion arrived in Gourock, Scotland, on February 25, 1944, only to be issued M10 tank destroyers while there.
After four months of additional training, they were loaded on transports and landed at Omaha Beach on June 11th. Entering the line at Livry, France, on July 2nd, they formed part of the 2nd Armored Division's spearhead during the Cobra breakout in late July. Fighting at Mortain, they established first contact with Canadian Forces during the encirclement of the Falaise Pocket. Entering Belgium on September 5th, they crossed the German border near Gangelt and fought against Siegfried Line defenses along the Wurm River in October.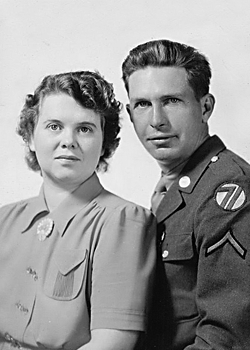 On October the 4th, Company B, supporting CC "B" (Combat Command B, 2nd Armored Division) crossed the Wurm River at Palenburg, Germany. The M-10 Tank Destroyer which Friend was a crew member of was involved in action with the enemy that same day. He was wounded at this time and was awarded a Silver Star Medal for heroic actions. The citation reads as follows:
"For gallantry in action on October 4, 1944, in Germany. On October 4, 1944, the M10 tank destroyer of which Pfc. Shonts was gunner was ordered into action against a German tank in the streets of a German town. The enemy tank, which had not been accurately located, had already repelled two attacks by American tanks. Knowing that their vehicle would be destroyed if they could not detect and destroy the enemy tank within a few seconds after entering the streets, Pfc. Shonts and the rest of the crew unhesitatingly drove forward. The enemy opened fire at close range but missed with the first round. The tank destroyer remained in position and fired twice in rapid succession. Immediately their destroyer was hit twice and burst into flames. Two of the crew were killed, the remaining three were wounded."
Sadly, Private First Class Friend Elmer Shonts died of his wounds on October 6th. In addition to the posthumously awarded Silver Star, he received the Purple Heart, WWII Victory and EAME medals with credit for the campaigns of Normandy, Northern France and Rhineland.
He was originally buried in Europe, but in 1948 he was disinterred and returned to the U.S. He was re-interred on August 19th at the McKean Memorial Park in Lafayette, PA. We would like to thank Pfc. Shonts for making the ultimate sacrifice for his country. Thank you to Find a Grave contributor CABrown for use of the grave marker photo.