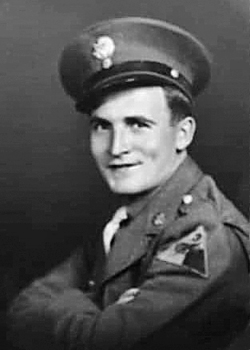 Earl R. Sutliff
Biography: Earl Richard Sutliff was born on January 26, 1920, in Kortright, New York. He was the son of Charles Sutliff and Mary K. Schermerhorn and received his early schooling at the Milford Upstate Home for Children where his parents were living at the time.
He continued his education at the Delaware Academy in Delhi, NY and although his enlistment record states he had only a grammar school education, the 1940 census lists him as having a 10th grade education. He then worked as a truck driver, delivering coal. In a letter from his mother, she identified that he was a member of the local Baptist Church.
Service Time: Earl entered the service on February 12, 1942, at Fort Niagra in Youngstown, NY. He received his basic training at Camp Polk, Louisiana, where he was assigned to Company B of the 703rd Tank Destroyer Battalion.
On November 24, 1942, Earl married the former Teresa V. Markley who was the daughter of Joseph J. Markley and Jenny P. Farro. The new couple made their home in Oneonta, NY.
After returning to the unit, Earl continued his training at a number of military facilities within the U.S., including Camp Hood, Texas and the Desert Training Center in California, where they trained as part of the 3rd Armored Division. Additional training was received at Camp Pickett, Virginia, and Indiantown Gap, Pennsylvania. They remained at Indiantown Gap for over 7 months before leaving for Camp Kilmer, New Jersey, for final preparations before shipping overseas.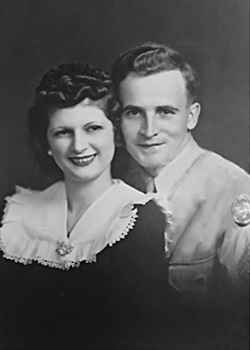 The 703rd left the U.S. on the S.S. Shawnee, sailing on September 5, 1943, as part of a grouping of ships carrying the entire 3rd AD. They arrived at Avonmouth, England, on the 15th and moved to Mere, Wiltshire, England, where they spent 9 months continuing their training. They were not part of the initial Normandy landings but boarded LCTs (Landing Craft Tank) on June 28, 1944, and sailed for Normandy, landing at Omaha Beach on July 1st.
They first saw action near Hautes Vents, France, on July 13th, using M10 tank destroyers and participated in the Cobra breakout at the end of the month. They were held in reserve during the battle of Mortain in August, they then crossed the river Seine on August 26th, reaching the Siegfried Line in the vicinity of Eschweiler, Germany, by September 12. The 703rd was the first battalion converted to M36 tank destroyers, beginning at the end of September, and began fighting along the West Wall of the Siegfried Line until mid-December, when they were transferred to the Ardennes and fought to reduce the Bulge in January, 1945.
The Operations Report for March 1945, identifies that on January 24th, the battalion pulled out of battle for rest at Ocquier, Belgium. The 703rd left Ocquier on February 19th, for Stulberg, Germany, arriving on the 23rd. On March 4th, 3rd platoon of B Company was in the vicinity of Pulheim but was ordered to assist the 83rd Armored Reconnasciance battalion to capture Hoggendorf and Worringen as part of Taskforce Lovelady (named after the 2nd Battalion, 33rd Armored Regiment's commanding officer, Lt. Col. William B. Lovelady).
"3rd Platoon moved out of Stommeln at 1000A hours and reached Sinnersdorf at 1200 hours. At 1215 hours the task force moved against the enemy at Roggendorf, the task force ran into strong anti-tank artillery fire and small arms fire. Sgt. Gore's TD (tank destroyer) of 3rd platoon was hit in the suspension system as he moved cross country onto the town. Sgt. Gore fired three (3) rounds of AP (armor-piercing) at enemy tank firing on the task force. His TD was hit the second time, by two (2) rounds of enemy AT (anti-tank) fire, killing Cpl. Janowicz, T/4 Sutliff, Pfc Hall and Pvt Shields. By 1418A hours the task force passed through Roggendorf and attacked Warringen (Worringen). The TD platoon supported the task force while it secured the town and reached the Rhine river. The task force was relieved and returned to an assembly area in the vicinity of Roggendorf closing at 2230A hours."
Text from the 3AD history of Taskforce Lovelady "Five Stars To Victory" by A. Eaton Roberts, provides additional information on the action of that day:
"On the 4th day of March, Task Force Lovelady once again made history, by being the first unit of the United States First Army to reach the Rhine, while we were momentarily attached to the 83rd Armored Reconnaissance Battalion."
"Early in the morning, the entire task force attacked Roggendorf. A tank destroyer was fired upon by what appeared to be one of our own Shermans, only one of the crew escaping alive. Without hesitating, "E" company eliminated the rude offender, and determined that it actually was a Sherman tank, captured and manned by a German crew. Bypassing an extensive anti-tank ditch, they crashed into the town much earlier than anticipated by the enemy, which resulted in the capture of 125 prisoners. Surely, these were not S.S. soldiers, to surrender a town so uncomplainingly! For the most part, they were not even Wehrmacht, but like so many we had encountered recently, were Volksturm troops. These frightened, ill-trained, poorly equipped substitutes for a dying army, were composed of citizens who had been rejected for military service through the years, because of age, large families, poor health, and physical defects. Some had been discharged from the army after losing an arm or a leg. Even these culls of German society were drafted into the "People's Army" by Hitler, who tried to inculcate (instill) them with such fanatic faith in the Nazi party that they would lay down their lives and block the roads to Berlin with their bodies. How utterly unsatisfactory this final desperate effort was, was demonstrated daily by the large numbers captured without firing a shot."
Earl R. Sutliff Obituary – The Post-Star from Glen Falls, NY, April 7, 1945
Technician 4th Grade Earl R. Sutliff was buried in the Henri Chapelle American Cemetery in Hombourg, Belgium, Plot ZZZ, Row 4, Grave 71. In June of 1948, his remains were brought home to New York, per the wishes of his family, and he was permenently laid to rest in the Union Cemetery, located in Fort Edward Station.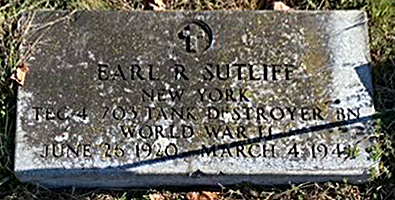 I want to thank Jim Greenberg for sharing his extensive research on Earl with our site. Thank you also to Jim's wife and son for their assistance with his research. Jim's son is a Master Sergeant in the U.S. Air Force and is stationed in Germany. Thank you also to Find A Grave contributor Kathy Kinnin for the use of the grave marker photo.