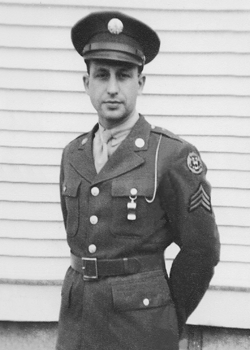 George J. Seyferth
Biography: George Joseph Seyferth was born on September 28, 1916, in Racine, Wisconsin. He was one of nine children, six brothers and three sisters, born to Herman Albert Seyferth and Albertina Louisa Zank. He attended Lincoln, Washington Junior High School and graduated from William Horlick High School, serving as their 1935 Class President.
He then worked for the Hamilton Beach Company, which manufactured electrical motor driven appliances, in Racine. He was also a member of the English Trinity Lutheran Church
Service Time: George entered the service on February 20, 1942, at Fort Sheridan, Illinois. At some point after his basic training, he was assigned to the Headquarters Company of the 7th Tank Destroyer Group. The unit was activated on September 1, 1942, at Camp Hood, Texas, and had training and maneuvers at a number of military facilities including Camp Bowie, TX, where they moved to on November 18th. They then moved back to Camp Hood on January 20, 1943, and later went to Camp Shelby, Mississippi, on March 6th, as part of XV Corps.
They were prepared for shipment at Camp Kilmer, New Jersey on February 2, 1944, and shipped from the New York Port of Embarkation on February 9th, arriving in England on the 18th. After five months of additional training and preparations, they shipped to France, landing on July 18th. Their first assignment was as the Anti-Tank Section for VIII Corps, which participated in Operation Cobra and then traveled west into Brittany, liberating the French city of Brest.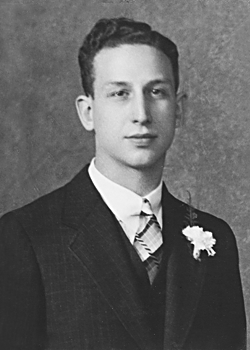 VIII Corps then moved east toward the German border, joining other units as part of the Ninth Army on the front lines in the vicinity of the Our River and Schnee Eifel Mountain Range. In early October, the area was some distance from German forces and was being used as a rest area for other units that had seen heavy fighting in the Hürtgen Forest. The 7th moved into Luxembourg on October 23rd and while stationed there, George was fortunate to have been housed with a former Racine family, who were living in Belgium. They had been forced from their homes there and were living in Luxembourg. In a letter home to his family, George mentions that the head of the family was actually the Mayor of the village before fleeing for their safety, leaving everything in the house intact. George also described his experience staying in Luxembourg:
"Luxembourg is certainly typical – Old Country. For the first time, we are staying in buildings. Our home is a small village consisting of the usual church, school, cafes, jail house, which is our mess hall and private homes. The homes are made of stone with tile roofs, barns built right into the house."
"Village life goes on the best it can from the call to church in the morning to putting the cows to bed at darkness. German and French are both spoken here. Familiar street scenes are dogs pulling milk carts, kids and young women carrying milk cans, oxen pulling wagons and the usual passing of numerous persons riding bicycles. The presence of the Yanks doesn't keep the kids in a very settled mind for studying."
"Our house is probably the best in town. We have electric lights, washing facilities, including a washing machine and every kind of household equipment"
When the Germans attacked on December 16th, as part of the Battle of the Bulge, the 7th moved into Belgium three days later on the 19th. It was during this period that VIII Corps units successfully delayed German advances until additional allied troops could be moved into the area.
We do not know exact location or the circumstances of the incident but on December 26th, Technical Sergeant George J. Seyferth was killed in action. His body was brought back to the U.S. and buried in the West Lawn Memorial Park in Mount Pleasant, WI.
We would like to thank George for making the ultimate sacrifice for his country. We want to thank George's niece, Kathleen Berkley, for providing the photos of George. Thank you also to Karen Tatro Kilman for the use of the grave marker photo.