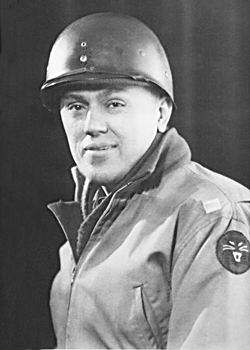 John D. Singer
Biography: John David Singer was born on December 25, 1904, in Russia. John's parents emigrated from Russia, possibly in 1905. It is likely name changes took place after they reached the U.S. We are unable to trace his family's early history in this country with confidence. His Separation Qualification Record shows that during 1931, he had completed 18 years of education earning him a Medical Doctor Degree, in Medicine, from the University of Illinois.
He practiced general medicine and surgery from his own office in Chicago, IL. for 11 years. He completed 18 months residency in pathology at Cook County Hospital. He also lectured at the U. of I. for 9 years concurrently with his medical practice. On December 15, 1935, he married the former Genise Adler who was born in Chicago. She was the daughter of Samuel B. Adler and Sadie Podolskij.
Service Time: John entered active service in the Army on November 9, 1942. He completed Medical Corp Officer Orientation schooling. At some point, he was assigned to the Medical Detachment, 773rd Tank Destroyer Battalion. He attended the Tank Destroyer Officers Advanced Orientation school during their many months of training. The 773rd Tank Destroyer Battalion was activated on December 15, 1941, from the 73rd Provisional Anti-tank battalion. In early 1942, the unit moved to Camp Shelby, Mississippi, for four months of training followed by a move to Indio, California and the Desert Training Center. After an eight-month training period, including the Desert Maneuvers of September and October of 1942, the 773rd departed for Camp Hood. Texas, the home of the Tank Destroyers. This training phase extended from December 1942 to April of 1943.
Again, on the move, this time to Camp Atterbury, Indiana, they later were ordered to Tennessee, in June, for their fourth large scale Army Maneuvers, this time with the Second Army. The unit returned to Camp Atterbury, and on the 15th of January 1944, they moved to New York. A short but busy stay at the P.O.E., Camp Shanks, NY, preceded embarkation on the British liner "Acquitania".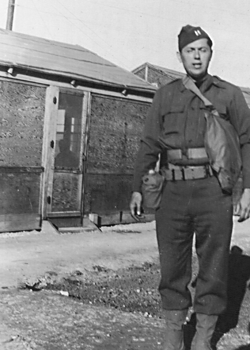 The 773rd arrived at Gourock, Scotland, on February 7, 1944. They immediately boarded trains and moved to England. More training ensued and during April and June, the unit operated three marshaling camps in southern England, providing accommodation and administration for combat troops being prepared for the Normandy landings. Captain Singer was awarded an Oak Leaf Cluster (OLC), in lieu of a 2nd Bronze Star Medal (BSM), for meritorious service during the period April 9 through July 5, 1944. We do not have any information regarding his original BSM award.
Bronze Star – Oak Leaf Cluster Citation
They later landed at Utah and Omaha beaches, Normandy, France, on August 8, seeing their first real action at Le Bourg, St. Leonard, beginning August 17th during the envelopment of Falaise Pocket. They advanced to the Moselle River sector via Paris and fought at Luneville and the Foret de Parroy.
On October 9th, 1944, an M10 tank destroyer of Company C was knocked out and three crew members were listed as missing. On the 10th, as Battalion Surgeon, Captain Singer was able to verify that remains of the three men were indeed still in the vehicle.
Supporting the capture of Metz, France in November, they joined operations against the Siegfried Line along the Saar River in December. Captain Singer was awarded a Purple Heart Medal for wounds received on December 9, 1944. The unit was ordered to the Ardennes on January 6, 1945, and then began fighting through the Siegfried Line again in February. They reached the Rhine River at Koblenz, Germany on March 16th. The 773rd crossed the Rhine on March 23rd and 24th at Oppenheim and helped capture Darmstadt and Frankfurt before driving across Germany to Czechoslovakia, beginning on April 1st. The unit cleared the Czechoslovak-German border area southward and ended the war near Petrovice.
Following the end of combat, John served as Commanding Officer of a Medical Battalion attached to the 3rd Army. In addition to his Bronze Star with OLC and Purple Heart, he was awarded the EAME with credit for the campaigns of Northern France, Rhineland, Ardennes-Alsace and Central Europe, the American Defense Service and WWII Victory medals. He left the service at Fort Sheridan, IL. at the rank of Major, on October 24, 1945.
John returned to Chicago and Genise. Over the years, they had one son and two daughters. We do not have any additional information on his life after he returned home. He passed away on April 7, 1997, and was buried in the Westlawn Cemetery, Norridge, IL.