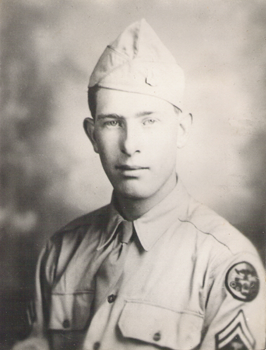 Joseph W. Sloan
Biography: Joseph W. Sloan was born on May 30, 1918, at Elmo, MIssouri, and attended country schools, completing the 8th grade.
Service Time: Joseph was inducted into the Army on Nov. 4, 1941, at Fort Leavenworth, Kansas. A month later, he was photographed as part of Company B, 15th Armored Replacement Battalion at Fort Knox, Kentucky (See Photo Below). He was eventually assigned to Company B of the 702nd Tank Destroyer Battalion, which was attached to the 2nd Armored Division. Joseph shipped with the unit to England on Feb. 15, 1944, in preparation for the Normandy landings. Now at the rank of Sergeant and a Gun Commander, on Nov. 19, 1944, while in Germany, Joseph received wounds that took him out of action and into a hospital in England for four months. He was shipped back to the U.S. on Mar. 15, 1945, arriving on Mar. 26 and spent additional time in a hospital. He was finally discharged on Feb. 2, 1946, at Hospital Center CP, Carson, Colorado. He received a Purple Heart for his wounds as well as the Good Conduct Medal, American Defense Service Medal, American Campaign Medal, the European-African-Middle Eastern Campaign Medal with one Bronze Campaign Star and the WWII Victory Medal.
15th Armored Replacement Battalion Photo – Taken December 18, 1941, at Fort Knox, KY. Joseph is shown in the second full row from the front, 10th from the right. Also shown in the photo, standing in the front row, left to right are Cpl. Thompson (4th Platoon), Cpl. Johnson, Sgt. Tapia (4th Platoon), Sgt Harris. Lt. Whan, Lt. Boyd, Cpt. Arnold (Company Commander), Lt. Bounds, 1st Sgt White, Sgt. Lasyone and Cpl. Crawford. Warning Large File!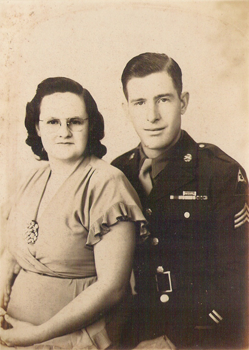 During his more than a year of recovery, Joseph married the former Mildred Ellen Ballenger in June of 1945. The couple resided in Burlington Junction, MO and had three children, Suzanne, Maurice, and Richard. Joseph worked as a farmer and handyman but his carpentry skills lead him to become self-employed, specializing in remodelling and new home construction. I n his spare time, he enjoyed gardening, woodworking, and spending time with his family. He was a member of the United Methodist Church, the American Legion Post #315 and the Kiwanis.
Joseph passed away on Jul. 1, 1987, and was buried on July 4, in the Ohio Cemetery, Burlington Junction, MO. The family felt that burying him on Independance Day was a truly appropriate way to honor the life of their soldier.
The following newspaper clipping identifies Sgt. Sloan as the Gun Commander, dug in with his Tank Destroyer near Geilenkirchen, Germany, and the Seigfried line. Geilenkirchen is just a few miles from the Holland-Germany border. If you notice, the date on the clipping's edge is November of 1944. The photo was published just days before or possibly after Sgt. Sloan was seriously wounded.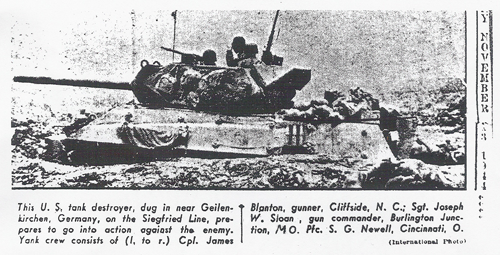 An item of special pride for Joseph was an oil painting done by a local artist and given as a Christmas gift from his children in 1982. Joseph wrote the names of his crew on the back. They were….Jimmy Blanton, Stanley Newell, Shutz, and Bill Steel.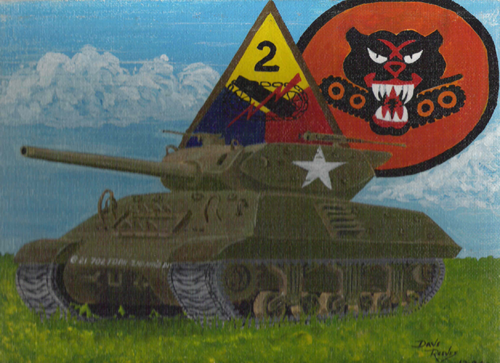 I want to thank Joseph's son, Richard, for providing the photos and information for this tribute.