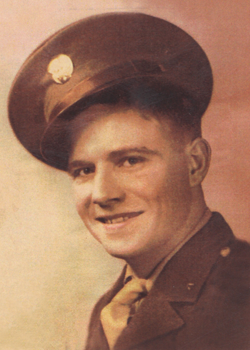 Thomas M. Sherman
Biography: Thomas Montgomery Sherman "Tom" was born on Dec. 30, 1919, in Nemaha County, Nebraska to the farming family of Tom and Elizabeth (Darrow) Sherman. One year, when the Missouri River flooded, Tom's father was forced to find work in the local town. Tom graduated from Peru Prep School in 1939. He then went to work in the CCC (Civilian Conservation Corps) Camps, which provided relief for unemployed men ages 18 to 24.
Service Time: In February of 1942, 200 draftees from Nebraska traveled to Camp Bowie, Texas, to become part of the newly-formed 636th Tank Destroyer Battalion. Tom was one of these men but his natural leadership skills soon shone through as he was promoted to Sergeant in only 6 months and served as Reconnaissance Company Sergeant. He continued to serve in that position throughout the war.
The unit arrived at Oran, Algeria, on April 13, 1943. They then landed at Paestum, Italy, beginning on September 13th and elements of the unit performed artillery missions, guarded Fifth Army CP, and trained British troops on M10 and TD doctrine in October and November. They reentered the line in the Mignano sector in late November, supporting the assault on San Pietro. They supported the Rapido River crossing in January, 1944, and entered the Cassino sector in February. Transferring to the Anzio Beachhead in May the 636th entered Rome on June 4th and then boarded transports, landing in southern France on August 15th.
The unit was the first to enter Lyon and reach the Moselle River in September. They engaged in the Vosges Mountain region beginning in October and relieved the 601st TD Battalion in Strasbourg in December. Battling the German Northwind offensive in January and February, 1945, they then converted to M36 tank destroyers beginning in late February. The unit struck the Siegfried Line near Wissembourg in late March and crossed the Rhine with the 14th Armored Division in April, dashing toward Nürnberg, the ended the war in southern Bavaria near Tegernsee. The 636th received credit for seven campaigns including Naples – Foggia, Anzio, Rome Arno, Southern France, the Rhineland, the Ardennes and Central Europe. Tom received the Bronze Star with V device for Valor and was discharged on October 11, 1945.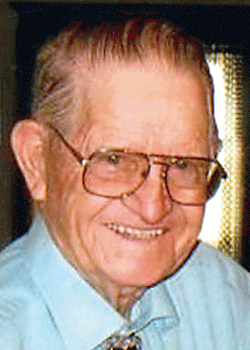 While Tom was on leave met his wife to be, Louise Jacqueline Cox. They later married on October 28, 1945, in Hyannis, Massachusetts. The couple would have three children, James, Charlotte and Karl. Tom went back to school after he returned from the service and attended the University of Nebraska, receiving a degree in Agriculture. For four years after his graduation, he worked for the college as a County Extension Agent helping the local farmers make good choices for planting, fertilizing and harvesting their crops. Tom eventually was able to rent a farm and later purchase his own farm to continue in his family's tradition.
When Tom wasn't farming, he enjoyed fishing and hunting and being part of the local American Legion and the DAV (Disabled American Veterans) organization and he also was a 4-H Leader. He received numerous awards for his activities including the 1979 Conservation Farm Award and the Public Service Award from the Aurora Chamber of Commerce in 2004.
Tom passed away on May 25, 2014.
Research: I came to know Tom through his work on the book, "Seek, Strike and Destroy – A History of the 636th Tank Destroyer Battalion". Back in the early 80's, Tom began his quest to document the history of the unit and the men he had been through so much with. For a number of years, using much of his own money, Tom purchased and collected documents, reports and photographs from the various governmental resources and other members of the unit to put together a very detailed volume on the 636th.
I contacted Tom to ask his permission to use portions of the book on this site. Tom was gracious enough to not only give me permission, but he also arranged for a copy of the book to be provided to me. I appreciate and thank Tom, not only for his work on the book, but also his assistance with this project. Tom has served our country, he served his community and he's still serving as an inspiration to me and those like me, trying to preserve the history of these men in this computer age.