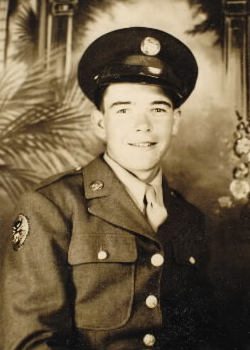 Clinton R. Snyder
Biography: Clinton R. Snyder was born on May 14, 1925 in North Hopewell Twp. York County, PA. He was the son of Samuel and Sadie A. Mitzel Snyder and attended both Raabs's & Freysville schools, which each had only one room.
After leaving school, he would work as a farmer and marry the former Lorraine Frey on April 6, 1943. She was the daughter of Eugene Frey and Lucy Snyder of Yoe, PA. The couple would reside in Red Lion, PA.
Service Time: Clinton entered the service on July 24, 1943 at Harrisburg, PA and served with the 823rd Tank Destroyer Battalion. The unit would take part in conflicts at St. Lo, the Siegfried Line, Aachen and the Battle of the Bulge. They received credit for five campaigns.
When he returned from the service, he went to work at Yorktowne Kitchens as a cabinet maker. He and Lorraine would have four children, Rae, Bonnie, Fred and Samuel. Besides his family, Clinton enjoyed spending time out in the woods hunting and was a life member of both the VFW and American Legion.
Clinton passed away on May 5, 2005 and was buried at Chapel Church, United Methodist Cemetery in Red Lion, PA.
It would be over fifty years from his time in the service that the full extent of what Clinton did near Mortain, France in August 1944 would become evident through the research of his son Sam. See the article below for a full explanation.
Article from the York Daily Record regarding the French Legion of Honor Award
As mentioned in the article, Clinton earned a Purple Heart, the Bronze Star, the POW/MIA medal and the French Croix de Guerre, also known as the French Cross. His unit received two Distinguished Unit Citations and the French Fourragere. It would be over 65 years until he would posthumously be awarded France's highest award, the French Legion of Honor, shown below. I want to thank Clinton Snyder for his service and his son Sam for supplying this information.