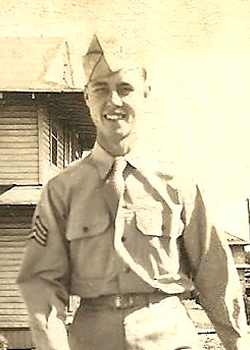 Phillip E. Smith
Biography: Phillip Earl Smith was born on December 6, 1923, in Springfield, Michigan. He was the son of Abraham Morris Smith and Ethel Carter and attended Springfield Elementary and High School. After leaving school, Phillip worked as an Apprentice Jeweler.
Service Time: Phillip entered the service and was eventually assigned to the 671st Tank Destroyer Battalion, which was activated at Camp Hood, Texas. He was promoted to Sergeant and served as Commander of a tank destroyer crew. His TD was named "Stardust" after he and his wife's favorite song. The unit shipped from Seattle, arriving in the Philippines, via Hawaii, and took up positions preparing for the invasion of Japan. He was wounded and received a Purple Heart as well as a Bronze Star for his actions.
After leaving the service, Phillip went to work as a tool and die maker using some of his spare time for woodworking. He married the former Elizebeth Majory Bowers, in 1944, who was the daughter of Van Bowers and Bertha Contie of Providence, Rhode Island. They had two sons, Phillip Earl and Gary Michael.
Phillip was a member of the American Legion Post 104 in Pinellas Park, Florida, and was Commander there twice. He died on February 13, 2009, and was cremated.
I want to thank Phillip's son, Phil, who himself is a Viet-Nam veteran from Fort Hood (formerly Camp Hood), for providing this information and for their service to this country.