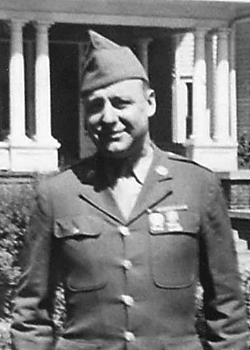 Odie M. Simmons
Biography: Odie Morgan "Bud" Simmons was born on February 25, 1906 in La Grange, Georgia. He was one of 11 siblings (2 brothers, 5 sisters, 1 half-brother, and 2 half-sisters) in the family of Odie D. Simmons, of Troup County, GA, and Annie L. Sands of Harris County, GA. Bud attended local schools and completed two years of high school before becoming a driver, in 1930, for a laundry business in DeKalb County, GA. From 1939 to 1940, he served in the National Guard.
Service Time: Bud entered the Army on February 24, 1941, at Atlanta, Fulton County, GA, and was assigned to the Field Artillery. Based on his time in the National Guard, he entered at the rank of Sergeant

He served with Company A of the 825th Tank Destroyer Battalion, which was equipped with towed 3″ guns and received credit for campaigns in Northern France, Rhineland and Central Europe. As with a number of TD units, the men did whatever was needed and the 825th even assisted with the wheat harvest in August and September of 1943 in Devil's Lake, North Dakota. You can find more information about that on the 825th page in the unit section of the site. The photo below on the left shows Bud in 1942 as a Staff Sergeant while at Fort Jackson in Columbia, South Carolina.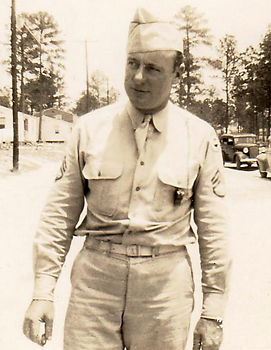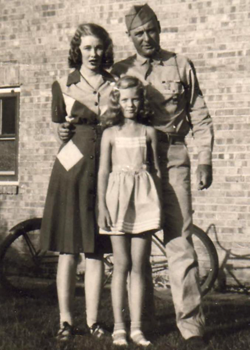 On January 16, 1942, Bud married the former Willie Patricia "Pat" Anderson in Bradford County, Florida. She was the daughter of James Henry Anderson, Sr. and Ella Frances Stutts. Pat was born in Portsmouth, Virginia and the new couple made their residence in Hapeville, GA. Together they had three sons, James, Jerry, and George, and they also had two children from Pat's previous marriage, Robert Fouche Horne, Jr., and Barbara Patricia "Patsy" Horne. Bud's step-daughter, Patsy, quickly became known as "The Sweetheart of Company A". As seen in the photo above, which was taken in October of 1943 while in Salina, Kansas, Bud is shown as First Sergeant with wife Pat and step-daughter Patsy.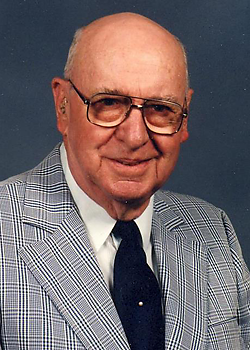 After the war, Bud worked at the White Meat Packing Company in Atlanta, GA. He later worked for the Railway Express Agency and retired from there after 30+ years. In his spare time, Bud enjoyed hunting, especially rabbits. He was a member of the Hapeville First Baptist Church, Hapeville, GA, and the Atlanta Beagle Club.
Bud passed away on November 3, 1995, in Clayton County, GA. at the age of age 89. He was buried in the College Park Cemetery, College Park, GA. Pat passed away on August 7, 2010, at 98 years of age.
I want to thank Nannette Rod, daughter of Patsy Horne, and granddaughter of Pat Simmons, for this information and photos of her step-grandfather and the 825th Tank Destroyer Battalion.