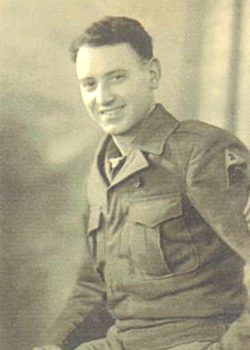 Russell C. Shepherd
Biography: Russell Charles Shepherd was born on December 15, 1916, in Olin, Kentucky. He was the son of John Preston Shepherd and Laura Belle Wells and attended Moore's Creek school in Jackson County, KY. He went on to take farming classes at the University of Kentucky.

Service Time: Russell entered the service on July 15, 1941, at Fort Thomas in Newport, KY. He was assigned to Company B of the 702nd Tank Destroyer Battalion and served as a tank commander. He was with the unit during their time at Fort Benning, Georgia, Fort Hood, Texas, and Camp Claiborne, Louisiana, shipping out with them from the Boston port on Feb. 15, 1944. While in Europe, he participated in all of the unit's campaigns, receiving credit for all five. He was awarded the EAME medal, American Defense Medal, Good Conduct Medal and a Bronze Star for knocking out a German King Tiger tank. He also recieved the Belgian Fourragere and had an expert rating with a rifle. Russell left the service on Oct. 6, 1945, at the rank of Staff Sergeant.
When Russell returned home, he went back to farming but later worked at the Ford Motor Company in their manufacturing quality control group. On December 28, 1946, he married Nora June Shepherd who was the daughter of Earl and Edna Pearl Shepherd of LaRue, KY. The new couple made their home in Connersville, Indiana, and together had two sons, Tony, born in 1948, and Dan in 1956.
In his spare time, Russell enjoyed gardening, hunting and volunteering at the church he attended. He was also a member of the American Legion and Civil Defense. Russell passed away on June 6, 2004, and was buried in the Valley Grove Cemetery in Milton, IN.
I want to thank Russell's son, Tony, for providing this information and photo of his father.