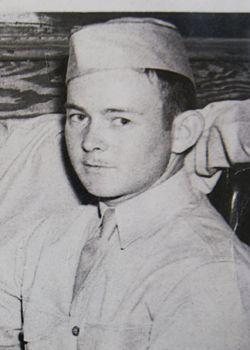 Claude A. Sutton
Biography: Claude Alton Sutton was born on May 14, 1922 in Milvid, Texas. He is the son of James Warren Sutton and Della Collins and attended local schools in Milvid. Prior to entering the service, he worked as a lumberjack.
Service Time: Alton, as he is known, entered the service and was sent to Camp Bowie, TX for basic training. He was assigned to the 141st Infantry Regiment until he was transferred into 3rd Platoon, B Company of the 636th Tank Destroyer Battalion. He trained in numerous locations including Louisiana, North and South Carolina, Florida and Massachusetts. While stationed at Fort A.P Hill, Virginia he was injured when a machine gun exploded.
Alton shipped out with the 636th on April 2, 1943 and was involved in their training at Oran, Algeria. He continued with the unit receiving credit for five of their campaigns, including Naples-Foggia, Rome-Arno, Southern France, Rhineland and Central Europe. After the war had ended and men were transferring home, Alton was transferred into Company G of the 409th Infantry Regiment to fulfill the last of his commitment to the Army. He was discharged on October 17, 1945.
In a V-Mail sent to his father James in April of 1944, Alton writes, "Dear Pop, While I have the time I drop you a line just to let you know that I'm still O.K. and doing fine." He also mentions seeing Wimpy several times and that he looks O.K. and confirmed that he had received the photos of Dicki and himself over at Buddy's that his father had sent.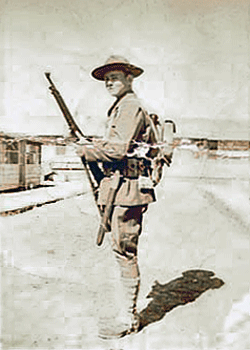 The photo to the left shows Alton in the early days of his time in the service, probably while he was with the 141st Infantry Regiment.
When Alton returned to the states, he worked as a truck driver, lumberjack and forklift driver. On October 14, 1946, he married the former Audrey Fay Price. She had been born in Liberty, TX and was the daughter of Flecther and Rosa Lee Price. The new couple would make their residence in Willis, TX and together have four children, Bruce born in 1947, Marlene born in 1952, Stanley born in 1953 and Della born in 1964. In his younger days, Alton enjoyed hunting and fishing. These days he enjoys more leisurely activities.
The two images below are paintings done during Alton's time in the service. The image on the right came with the following flyer:
The Booster – Published Weekly by Midwest Studio, Inc.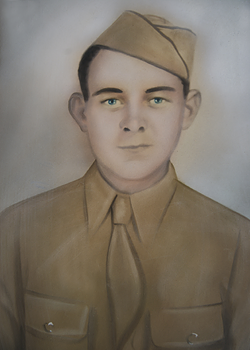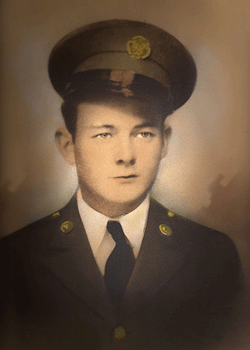 Alton passed away on May 13, 2014, just one day short of his 92nd birthday. He was buried in the Willis Cemetery, located in Willis, Texas. I want to thank his daughter Della for providing this information and photos of her dad.