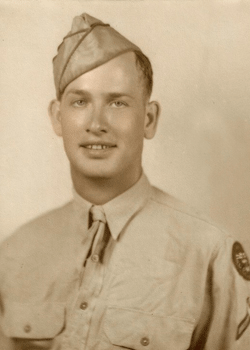 Lonnie J. Sine
Biography: Lonnie Jacob Sine was born on November 28, 1918, in Daybrook, West Virginia. He was the son of Jacob Lonnie Sine and Myrtle Belle Wright and attended local schools in Daybrook.
Service Time: Lonnie entered the service on October 22, 1941, at Huntington, WV. He travelled to Camp Lee, VA, for his basic training, which he completed on January 10, 1942. He was assigned to the 103rd Quartermaster Regiment but was soon transferred to C Company of the 628th Tank Destroyer Battalion on February 10, 1942. Lonnie continued with the unit, ending up at Camp Shanks, New York, just prior to shipping out on the Aquitania in late January.
The 628th landed at Greenock, Scotland, and then moved on to Utah Beach, Normandy, France, on July 30, 1944. They participated in four campaigns; Northern France, Rhineland, Ardennes-Alsace and Central Europe. Lonnie shipped home on November 5, 1945, from La Harve, France, on the Victory Ship Canston and arrived at Boston, Massachusetts, on Nov. 13, 1945.
Lonnie kept a notebook with him throughout the war and wrote down some of the more important events and thoughts that came to him. One such thought mentioned "Lives were lost, I did it for my loved ones and my family". He also exclaimed "Glad to be home again and see my country with God once again". He also listed a few of his buddies, which included, Jacob Crawford, Jessie Weidier, A. B. Stargiel, 1st Sgt. Isaac H. Luckey, Harold W. Taylor, Sgt. Traber and Sgt Luther W. Womack. Luckey, Taylor and Womack were also members of C Company. The others assignments weren't able to be confirmed. Lonnie left the service at the rank of Pfc.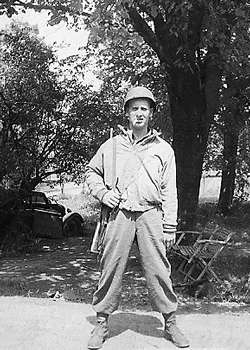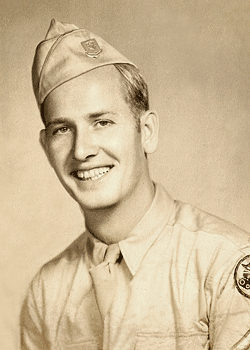 Lonnie arrived home on Nov. 19, 1945, and found work at the Morgantown Water Commission in Morgantown, WV. He stayed with that job and eventually retired many years later. In November of 1953, he married the former Leona Virginia Moats who was the daughter of Mack Arthur Moats and Elsie Gladys Lipscomb. Leona was born in Tomas, which is in Preston County, WV. The couple resided in Core, WV, which is in Monogalia County. They had four children, Sylvia, Robert, Diana and Gary. Lonnie also had four step-children, Velma, James, Kenneth and Hilda, which he raised as his own.

In his spare time, Lonnie enjoyed gardening and was a member of the Jakes Run Assembly of God Church and VFW Post #548 of Morgantown. Lonnie passed away on December 24, 1988, and was buriedat the Tennant Cemetery in Prentress, WV. At the time of his death, he had twelve grandchildren and one great-grandchild.
The photo shown at left was taken on the occasion of his daughter Sylvia's wedding.
I want to thank Lonnie's daughter, Sylvia, for providing the above information and photos of her father.