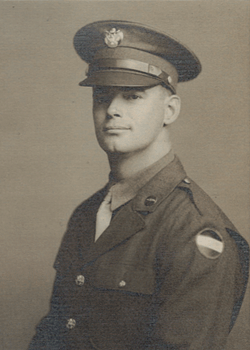 Marcel A. St. Pierre
Biography: Marcel A. St. Pierre was born in Van Buren, ME on March 2, 1910. He only attended grammar school and worked as a Millwright as identified by his Honorable Discharge. His enlistment record identifies him as a guard or watchman. He is listed as being single.
Service Time: Marcel entered the service on April 28, 1942 at Bangor, Maine. He was assigned to the 703rd Tank Destroyer Battalion and shipped out to the ETO on September 5, 1943 landing on the 16th. He served the unit as a cook and received credit for each of the unit's five campaigns, Normandy, Northern France, Rhineland, Ardennes-Alsace and Central Europe. Marcel received the EAME Medal, the Good Conduct Medal and was authorized to wear the Belgium Fourragere with the rest of the unit.
At some point, he was transferred to Company B of the 48th Armored Infantry Battalion, probably until he had enough points to come home. He returned to the states on Oct. 7, 1945 and left the service at Camp Edwards, MA on the 14th at the rank of Technician 5th Grade.
I want to thank Dan Garitta who teaches history to various groups and came upon Marcel's information recently. Thank you for keeping his memory alive.