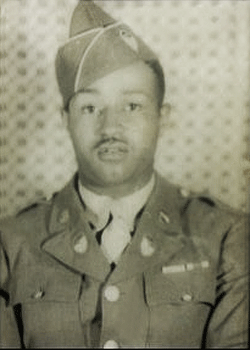 Joseph M. Stokes
Biography: Joseph Mitchell Stokes was born on February 17, 1918 in Zuni, Virginia, which is in Isle of Wright County. He was the son of Luke Stokes and Gertrude Mitchell and received an education at a 6th to 8th grade level. At that time, black children weren't allowed to attend public schools even though their families still paid local taxes to fund them. Joseph's maternal grandfather provided timber from his land to build a two room school house in their county. The local black farmers also paid for a teacher and Joseph and all his siblings went to school there. After leaving school, Joseph found employment as a farm worker.
Service Time: Joseph entered the service on May 29, 1941 at Richmond, Virginia. He would ultimately be assigned to Company B of the 827th Tank Destroyer Battalion and trained with them while still in the U.S. He spent time at both Fort George G. Meade and Fort Huachuca in Arizona where many black soldiers were trained.

On January 30, 1944, Joseph married the former Thelma Costly of Newark, NJ. She was the daughter of John L. Costly Sr. and Bessie Scott. John was a WWI veteran himself. Joseph returned to the unit and continued his training until the unit shipped out for the E.T.O. on November 3, 1944. The 827th had been reorganized as a towed battalion while still in the states but arrived in December of 1944, during the German Norwind offensive, with M18s. While attached to the 12th Armored Division, they fought to eliminate the Colmar pocket in January and February of 1945 and later took up rear area security functions. The 827th received credit for the Rhineland, Ardennes and Central Europe Campaigns.
Joseph received the EAME Medal, the American Defense Medal, the American Campaign Medal, the WWII Victory Medal and the Good Conduct Medal. He left the service at the rank of Pfc.

Joseph returned to the states and he and Thelma made their residence in East Orange, NJ. Joseph became a Civilian worker for the Navy Depot and Military Traffic Management Command. Together the couple would have seven children, six boys and one girl. In his spare time, he enjoyed supporting his sons in both the Boy Scouts and in Little League Baseball. He was also a member of VFW Post #7923 and the United Elmwood Presbyterian Church.
Joseph passed away on January 14, 1995 and was buried in Bloomfield, NJ. I want to thank his son Ronald for providing this information and photo of his father.