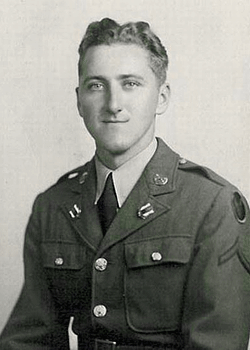 Burl L. Sloan
Biography: Burl LaVerne Sloan was born on November 15, 1921, in Rowley, Iowa, which is in Buchanan County. He was one of six children born to Will A. and Esther N. Sloan and graduated from Brandon High School. He went on to attend Upper Iowa University at Fayette but left to join the Army. Burl married the former Margaret Bullock on January 27, 1943, at Bryan, Texas. The couple had one daughter, Margaret Lynn.
Service Time: Burl entered the service in December of 1940 and was assigned to Headquarters Company of the 643rd Tank Destroyer Battalion. He is shown in their Company photo at Camp Gruber, Oklahoma. The photo was probably taken during their last stay there from Feb. 12, 1944, to Aug. 24, 1944, just prior to the unit shipping to the ETO. The 643rd saw action throughout Europe and received credit for the Rhineland, Ardennes-Alsace and Central Europe campaigns.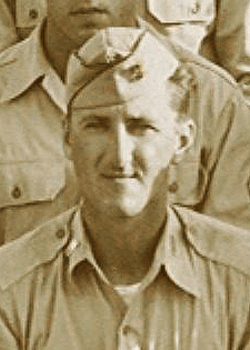 In April of 1945, with the unit attached to the 83rd Infantry Division, Ninth Army, Burl, now part of the Reconnaissance Company, was sent on a mission to gather intelligence on the enemy. On the 12th of April, in the vicinity of Barby, Germany, Burl was killed along with four other soldiers from the unit. At the time of his death, Burl was a 1st Lieutenant.

Burl was posthumously awarded the Silver Star and the Purple Heart for his actions.

Burl was originally buried at the Netherlands American Military Cemetery at Margraten, Netherlands, but in May of 1948, his remains were brought home to Brandon and buried at the Brandon Cemetery in Brandon, IA.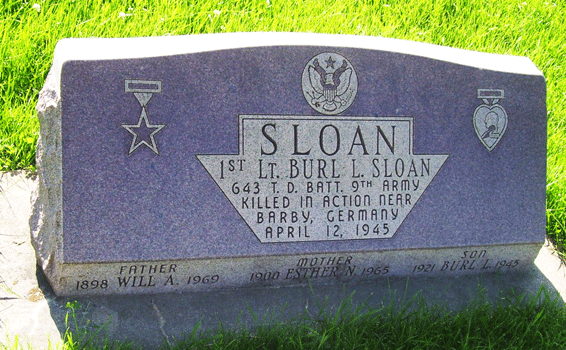 Materials for this tribute were provided by the May 11, 1948, issue of the Daily Courier from Waterloo, Iowa. Burl's brother, William Sloan, and Colette Harrison also contributed. Thanks also to Ben Savelkoul for his assistance.