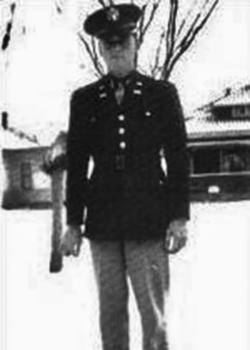 Herbert M. Siercks
Biography: Herbert "Herb" Martin Siercks was born on December 31, 1916, in Arlington, Nebraska. He was the son of William Raymond Siercks and Margaret Alvina Lucia Thomsen and attended a one room schoolhouse with one teacher for grades K through 8th. The school was located near Arlington and after leaving school, Herb worked as a farmer.
Service Time: Herb enlisted in the service on August 4, 1938, and was assigned to the 76th Field Artillery Battalion. The unit still utilized horses to pull the guns and was stationed near Cheyenne, Wyoming. He rode in both the 1938 and 1939 Frontier Day Parades held in Cheyenne. In 1940, he and the entire unit, moved to Camp Ord, in California. Their's were the first tents on the site, which is near Monterey. He was discharged on August 5, 1941, at the rank of Sergeant.
Herb married the former Florence "Flo" Amalia Weisenmiller on December 7th, 1941 just prior to the announcement that Pearl Harbor had been attacked. He re-enlisted in March of 1942 and was chosen for Officer Training, graduating later that year at the rank of Second Lieutenant. The family's first daughter, Carol, was born just a few months before his graduation. Their second daughter, Sandra, was born in 1943.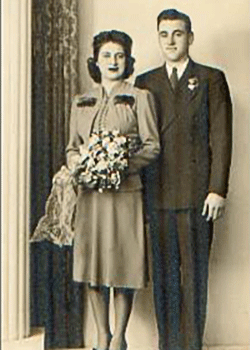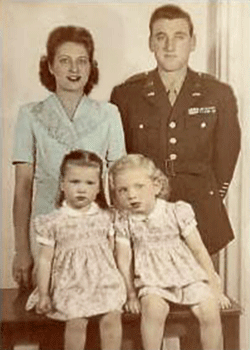 Herb was sent to Africa, early in 1943, on the British Luxury ship Andes. The ship was unescorted as it crossed the Atlantic and was hit by torpedoes as they were nearing the port city of Casablanca in Morocco, Africa. The men were forced to go ashore on small boats. It was there that he was assigned to the 894th Tank Destroyer Battalion which had been there since mid-January.
It was at the end of May that Herbert's platoon took part in an attack on the enemy, in the vicinity of Lanuvio, Italy. They were positioned on an open road and came under fire at about 250 yeards away by a German anti-tank gun. Lt. Siercks had pulled in front of the lead infantry units and came under intense small arms and anti-tank fire. His TD became disabled but he directed his crew to continue to fire and they were able to destroy the gun. They were then attacked by two tanks but he directed his crew to continue to fire and they were able to destroy both of them, before abandoning their TD. He would lead his men through automatic weapons fire and to safety. For these actions, Lt. Siercks was recommended for the DSC (Distinguished Service Cross).
Fremont Tribune Article – August 1, 1944
The 894th participated in the campaigns of Tunisia, Naples/Foggia, Rome Arno, North Apennines and the Po Valley. While they were fighting in Northern Italy, Herb was captured by the Germans and taken prisoner. He was held in a prison camp in Poland for over a year, until liberated with the defeat of the Germans.
Herb was discharged in 1946 but went back into the Army again in 1947. This time he was sent to Korea at the rank of Captain. He was tasked to form the Second Korean Army and was without help for the first year. It was at that time that a Lieutenant and a Sergeant were assigned to assist him. Herb knew the President of South Korea, Sigmund Rhee, very well, and actually trained a future president of Korea as one of the men of the Second Army. This unit later became the Second Korean Division.
He was then sent to Japan and served as the Provost Marshal for about 18 months, after which he returned to the U.S. and was an instructor to the National Guard Artillery Units in the State of Iowa. He replaced a Lt. Col. Roth and held that position for just over two years before being sent back to Japan. In 1953, he retired from the Army, at the rank of Major, after 16 years of service. His awards include, the British Military Cross, Silver Star w/Oak Leaf Cluster, Bronze Star, Purple Heart, Prisoner of War Medal, Good Conduct Medal, American Defense Medal, American Campaign Medal, EAME Medal with six campaign stars, WWII Victory Medal, Army Occupation Medal (Japan), Korean Service Medal, UN Korean Service Medal and the Korean Defense Medal.
After leaving the service, Herb worked as a Real Estate Salesman but his thoughts, over the next 34 years, were about the men of the 894th that he had been separated from so many years before. He and his wife spent an entire year trying to find each one of the men by using newspaper clippings Flo had kept during the war. One of the calls was to the Company Clerk and yielded a roster of the men. This list helped greatly in their research. The first reunion of the unit was held in August of 1976 at Independence, Missouri. The occasion was a great success and was repeated every two years for the next 22 years, each year being held in a different state. The last reunion was held at Ft. Knox, Kentucky, where a memorial to the men of the 894th was dedicated at the Patton Museum. A former officer of the battalion, Ellett Jackson, was instrumental in this effort.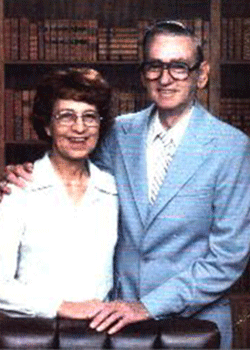 Herb finally did retire, making his residence in Hemet, CA, and was a member of the Disabled American Veterans – Chapter 2 and a life member of the American Ex-Prisoners of War. He was also a member of the Trinity Lutheran Church. On March 30 (Easter Sunday), 1986, Herb passed away and was buried at the Riverside National Cemetery, in Riverside, CA.
I want to thank Herb's daughter, Carol, for her assistance with this tribute, which was compiled from information she provided as well as two letters, he wrote in 1986, to his Great-Grandson, Budd Martin Brown. I especially like the following statement he made:
"I contribute my existence to loyalty, dedication and my sincere belief in our wonderful country during that terrible war. While my service caused me great physical pain and disability, I feel it was certainly worth whatever sacrifices I made. Most officers did not return home to their loved ones. I did, but it was not easy. Love your country, respect your flag and be grateful that you are an American."
I also want to thank Lowell Silverman for providing the Tribune article.